Germany is expected to sign in the coming days for a batch of 38 new Eurofighters to replace its earliest Tranche 1 examples.
Parliamentary approval for the deal was secured on 5 November, and Berlin will now proceed with what it refers to as Project Quadriga, says the nation's defence ministry. Contract signature will happen later this month, it says.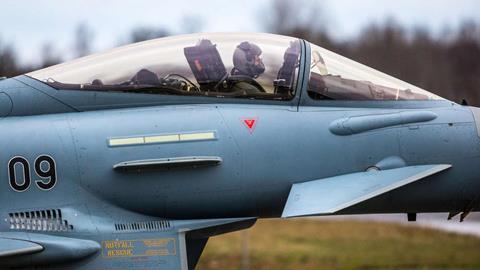 Deliveries of the next batch – which Germany describes as "Tranche 4" aircraft – are expected to run from 2025 to 2030; seven examples will be two-seaters and a further four will be instrumented and serve as part of a new test and evaluation centre it is creating for the type.
The Luftwaffe's aircraft will be equipped with a new Hensoldt active electronically scanned array radar.
Speaking on a third-quarter results call today, Alessandro Profumo, chief executive of Eurofighter consortium member Leonardo, confirmed that Germany had "extended" its order "on this programme".
Germany has previously indicated that it would order a total of 93 new Eurofighters: 38 covered by Project Quadriga, and 55 as partial replacement for the Luftwaffe's Panavia Tornado fleet.
In addtion, Berlin intends to purchase 30 Boeing F/A-18E/F Super Hornets to carry nuclear payloads, plus 15 EA-18G Growler electronic warfare aircraft.