Europe's three-nation Future Combat Air System (FCAS) programme has edged closer to entering its delayed next stage, following the conclusion of key talks.
"We can confirm that discussions among industry and governments on the next phase of FCAS have concluded, which represents a big step forward for this European flagship defence programme," Airbus Defence & Space said on 18 November.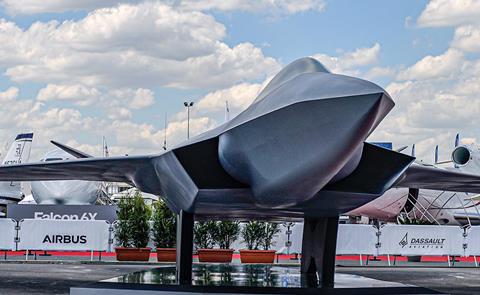 An initiative involving France, Germany and Spain, FCAS had been due to secure agreement on its Phase 1B by the end of 2021, but this schedule was delayed amid an industrial wrangle between Airbus and Dassault over the latter's expected role as lead developer for a prototype New Generation Fighter platform.
"Now a number of formal steps in the respective countries have to be taken in order to allow a speedy contract signature which we will have to adhere to," says Airbus's defence unit – which also will lead Spain's involvement. "We will provide further updates on the programme and the way forward in due time, once the contract between industry and the three nations is ready for final signature," it adds.
"The political agreement on FCAS is a great step and – especially in these times – an important sign of the excellent German-French-Spanish cooperation," says German defence minister Christine Lambrecht. "It strengthens Europe's military capabilities and secures important know-how for ours, but also the European industry."
She adds: "On the way to the air force of the future in Europe, it is once again clear that we can only master the enormous challenges together."
However, while the German side has heralded the political agreement, neither Dassault nor the French defence ministry have yet commented on the development.
Plans call for the FCAS programme to deliver a system of new air combat equipment for service entry by 2040.
Craig Hoyle joined Flight International in 2003, and has edited the now monthly title since 2015. He has reported on the UK, European and international military aviation sector for more than 25 years, and produces our annual World Air Forces directory.