Germany has received the first of an eventual seven Airbus Helicopters H145s to be used for search and rescue (SAR) missions by the army.
To replace the army's existing Bell UH-1Ds, the initial example of the medium-twin was handed over to Germany's BAAINBw procurement agency on 10 December, several months ahead of deadline.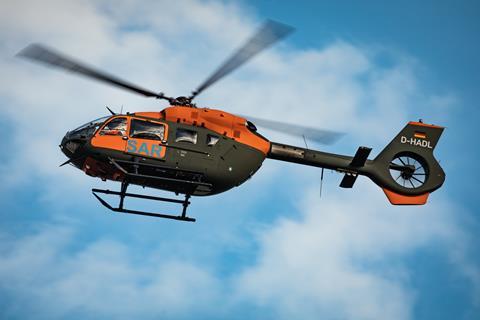 As well as SAR operations, the helicopters will also be used for disaster-recovery missions; they will be stationed at sites in Niederstetten, Holzdorf and Norvenich.
Final deliveries of the H145 LUH SAR helicopters will be delivered early 2021.
Separately, Ecuador has signed a firm contract for six H145s to be operated by the country's air force.
Confirming the deal in a tweet, the service says the German-built helicopters will "strengthen its operational capacity". No details on the contract value or the delivery timeline were revealed, however.
In addition, it is unclear whether the aircraft will be the civil H145 – like those being taken by the German army - or the M-designated military variant.
Both are powered by the same Safran Helicopter Engines Arriel 2E powerplants, but the H145M has the provision to add military capabilities such as weapons, armour or defensive aids.