GMF AeroAsia has delivered a Lockheed Martin C-130H tactical transport to Indonesia's air force after replacing its centre wingbox.
Delivery of the refurbished aircraft took place on 8 March at Jakarta's Halim International airport, simultaneously with the local arrival in Jakarta of the air force's first new C-130J, says GMF.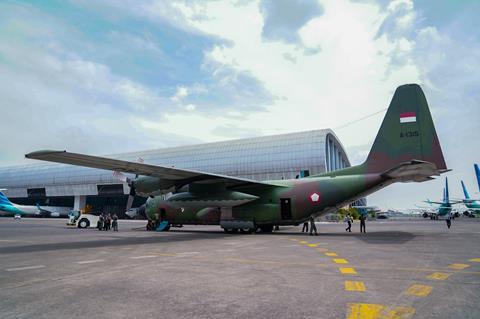 The new centre wingbox will add 20 years to the aircraft's service life. Other structural elements were also updated.
The C-130H bearing registration A-1315 is the first to undergo GMF's upgrading programme. GMF will later implement an avionics upgrade for the aircraft.
Two other Indonesian air force C-130Hs are in the process of receiving upgrade work by the company.
Cirium fleets data indicates that A-1315 was delivered new in 1979.
Overall, Jakarta has 28 C-130/L-100s, of which only one, the freshly delivered C-130J – is less than four decades old. Jakarta has four additional C-130Js on order.
GMF indicates that overall, eight C-130Hs will get the centre wingbox update, and seven the avionics upgrade.
In March 2022 GMF, the MRO arm of flag carrier Garuda, announced that it had received certification to perform MRO services on the C-130, as part of an effort to expand its footprint in the defence sector.