Hindustan Aeronautics (HAL) has inaugurated its third production line for the Tejas Light Combat Aircraft (LCA).
The new line increases annual production capacity for the Tejas LCA to 24 aircraft from 16, says HAL chairman C.B. Ananthakrishnan.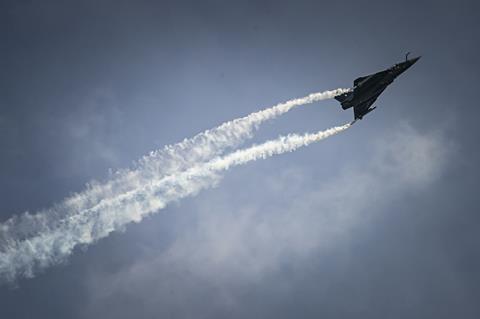 The third assembly line for the Tejas is in Nashik, where HAL also produces and overhauls Sukhoi Su-30MKIs for the Indian air force. The original Tejas assembly lines are located at HAL's headquarters in Bengaluru.
Defence secretary Giridhar Aramane officiated at the opening of the third line. He also formally handed the air force the 100th Su-30MKI to undergo repair and overhaul work at the location.
Ananthakrishnan adds that despite "supply chain issues in current geopolitical situations", HAL can overhaul 20 Su-30MKIs annually at the facility.
Cirium fleets data indicates that the Indian air force has 19 in-service Tejas LCAs, with orders for 104.
In January 2021, New Delhi ordered 83 examples of the improved Tejas Mk1A, covering 73 single-seat Mk1As and 10 two-seat trainers. The Tejas is powered by the GE Aerospace F404-IN20.
HAL is flight testing the Mk1A and expects to deliver the first of the type to the Indian air force in February 2024.