The Royal Australian Air Force (RAAF) will upgrade its fleet of BAE Systems Hawk 127s with updated engines as well as other improvements.
The $1.5 billion, 10-year contract will extend the life of the RAAF's Lead-In Fighter Training System fleet, which comprises 33 Hawk 127s, says defence minister Peter Dutton.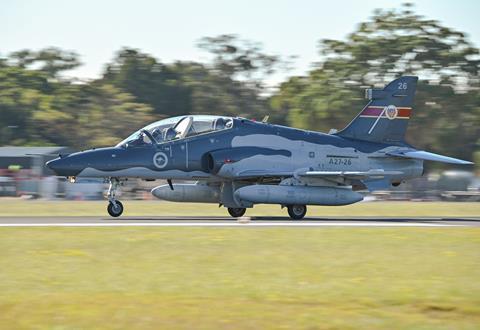 The upgrades will better prepare pilots for advanced RAAF types such as the Boeing F/A-18F Super Hornet, EA-18G Growler, and Lockheed Martin F-35A.
"The 10-year contract with BAE Systems Australia will sustain 350 direct jobs, support opportunities for up to 900 direct and indirect jobs for Australian industry members and progressively update the performance of the fast-jet combat training aircraft until 2032," says Dutton.
"The Lead-In Fighter Training System efficiently and effectively provides aircrew with the skills and experience to bridge the gap between initial training and the skills required to operate Air Combat fast jet aircraft."
Canberra started looking at trainer options in June 2020, when it issued a request for information about potentially replacing the Hawk 127 under its Air 6002 Phase 1 Requirement. BAE, Boeing, and Leonardo all confirmed their interest in the programme. BAE proposed a Hawk upgrade, Boeing the developmental T-7A, and Leonardo the M-346.
BAE Systems Australia welcomes the RAAF's decision. It notes that the contract includes a continuation of existing in-service support as well as upgrades, one element of which will be the installation of the new Rolls-Royce 951 Adour engine. The engine update will be completed by 2025.
Following previous upgrade work in 2019, BAE says RAAF Hawks are "very similar" to the Royal Air Force's Hawk T2.
"The upgrades will be led by BAE Systems' Australian engineers and supported by BAE Systems' UK Hawk aircraft specialists," says BAE Systems Australia.
"The increasing commonality of the Australian and [UK] Hawk fleets enhances the opportunity for future collaboration, reducing costs and enabling more effective enhancements."