Completed in late March, the retirement of most of the UK's BAE Systems Hawk T1s capped a years-long transformation of its advanced jet trainer fleet.
Leaving use were aircraft operated from Leeming in North Yorkshire by the Royal Air Force's (RAF's) 100 Sqn, and Culdrose, Cornwall-based 736 Naval Air Squadron (NAS). Prior to being disbanded, both units were tasked with delivering adversary training services for the UK armed forces.
Prepared using Cirium fleets data, FlightGlobal's World Air Forces directory 2022 listed a total of 42 Hawk T1s as being in active use with the RAF and Royal Navy (RN) late last year. This total has now been reduced to include just those aircraft assigned to the RAF's Red Arrows aerobatic display team, which will continue to fly the type until at least 2030.
RAF operations with the Hawk T1 commenced in April 1976. Having operated the type for more than 25 years, 100 Sqn ceased operations on 31 March, and the service says "some of the squadron's aircraft will now transfer to the Red Arrows". The display team is in the process of permanently relocating from Scampton in Lincolnshire to its nearby Waddington base.
The RN, meanwhile, notes that Hawk T1s had "been a mainstay for decades in training Royal Navy and NATO ships in air defence". 736 NAS had employed the type in this role since 2013.
Following the end of operations by 100 Sqn, the RAF announced an initially three-year "red air" services contract with Draken Europe. The company will deliver aggressor training from 1 July using a fleet of Aero Vodochody L-159Es operating from Teesside International airport.
A long-term solution for this mission requirement will be sought via the UK's Next Generation Operational Training programme.
Meanwhile, the UK Ministry of Defence has signed an 11-year integrated support solution contract worth £695 million ($903 million) to sustain the RAF's 28-strong fleet of new-generation Hawk T2s. The work will be performed at RAF Valley in Anglesey, North Wales, alongside the provision of so-called depth maintenance for the Red Arrows' jets.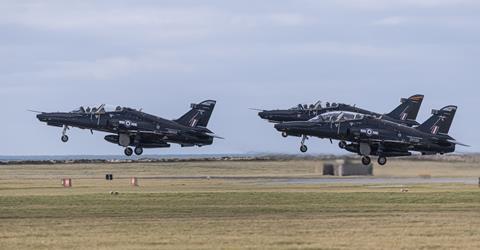 Spanning "all Hawk T2 airframe support elements", BAE's share of the award is valued at £590 million, with Babcock International to serve as its maintenance partner. R-R's support package for the fleets' Adour 151 and 951 engines is worth £105 million.
"The new contract will deliver efficiencies through new ways of working and harnessing the use of technology to drive savings which will be reinvested into the RAF's training capability," BAE says. The service's T2-model trainers were acquired as part of the UK Military Flying Training System (MFTS) programme.
"The Hawk T2 is a fantastic platform to train our [Eurofighter] Typhoon and [Lockheed Martin F-35B] Lightning pilots on, readying them for the demands of the frontline," says RAF Valley station commander Group Captain Andy Turk. "This level of ongoing investment ensures UK Defence will retain our military edge within the contested air environment," he adds.
In addition to the RAF's Hawk T2s, the MFTS programme also has delivered 23 Grob Aircraft G120TPs and 14 Beechcraft T-6Cs, respectively employed for elementary and basic training duties. It also has provided five Embraer Phenom 100s, used for multi-engined aircrew instruction.