Rolls-Royce Defence used the Farnborough air show to unveil an experimental demonstrator engine that was designed and tested "in under 18 months", and at significantly lower cost versus traditional methods.
The UK company describes Orpheus as "a truly transformational project that will change how products and technologies are developed for the UK's Future Combat Air System [FCAS]".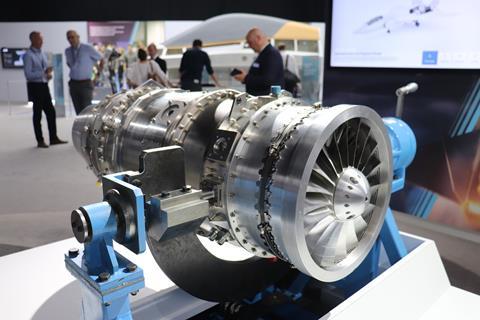 "We have transformed the way that we go about engine development and testing," says Alex Zino, executive vice-president business development for future programmes. "We have launched a programme and delivered an engine to test in nearly half the time, and taken out about 40% of the cost," he said at the show on 18 July.
"The Orpheus project has allowed for trial and collaboration across the business, combining proven methods of engineering with innovative digital technologies," the company says. This work also involved it collaborating with more than 30 UK-based small and medium-sized businesses, it adds.
As an example, by using model-based engineering techniques during the design of the combustor for Orpheus, plus 3D printing and additive layer manufacturing (ALM), Zino says its development cycle was reduced by 80%. "It also improved the specific fuel consumption, which ultimately either changes the range, or allows us to have a smaller combustor, reducing the overall size of the engine," he adds.
The twin-spool design also features a reduced parts count, and delivers integrated electrical power generation, R-R says. The company believes Orpheus could be applicable for products such as loyal wingman or remote carrier vehicles, but notes that the technology is "scalable and configurable" for other applications.
"Our successful engine tests have already included a range of ALM components and the Orpheus programme incorporates plans to develop and demonstrate ALM capability for all major components," R-R says.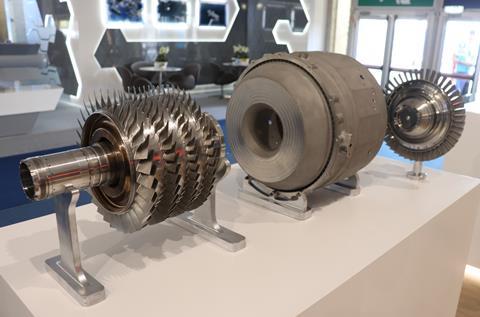 "This experiment has shown what we can do, and how we can do things differently. That is an important part of the learning that we are now feeding into the FCAS broader demonstration," Zino says.
R-R is one of four industry partners in the Team Tempest grouping, alongside BAE Systems (airframe), Leonardo UK (radar and sensors) and MBDA UK (precision-guided weapons).
BAE will fly a supersonic Tempest platform demonstrator within five years, it was announced at the show, with the experimental aircraft's engine selection yet to be announced.
By rapidly developing demonstrator engines such as Orpheus, R-R says it will be able to "shift the paradigm away from using off-the-shelf sub-systems for prototype vehicles, to being able to rapidly develop bespoke power solutions that can be quickly deployed".
Meanwhile, Zino also points to R-R's sustainability efforts, noting: "We are working to ensure this engine is certified to SAF [sustainable aviation fuel] regulations from day one, to make this a sustainable combustion system. We are already modelling the carbon footprint, and how that feeds through into the supply chain."
R-R describes Orpheus as a "first demonstrator engine concept", and notes that a "second demonstrator within the family [is] already on test in Bristol".

Craig Hoyle joined Flight International in 2003, and has edited the now monthly title since 2015. He has reported on the UK, European and international military aviation sector for more than 25 years, and produces our annual World Air Forces directory.
View full Profile