EDGE attended Riyadh's inaugural World Defense Show exhibiting just a fraction of its portfolio of products, and offering a glimpse of how Saudi Arabia's domestic industry ambitions could take off over the coming years.
Formed in 2019 via an amalgamation of multiple industries, the United Arab Emirates' (UAE's) defence champion has rapidly further established itself in areas including design, development, production and in-service support.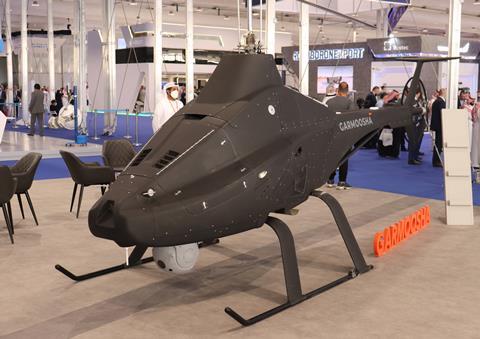 Similarly, Riyadh has established its Vision 2030 objective, under which 50% of its total defence spending will be localised by the end of this decade. Its path to achieving increased domestic output will include establishing joint ventures with foreign companies, but also growing the capabilities of national players such as Saudi Arabian Military Industries (SAMI).
"EDGE and the UAE defence industry has matured, and we look towards the international market," Miles Chambers, the company's director, international business told FlightGlobal at the 6-9 March show. "We have started to position ourselves as any large international defence company would. Localisation in Saudi is absolutely something that we are committed to."
Previous such initiatives have included a February 2021 teaming agreement between EDGE subsidiary NIMR and SAMI, related to the future production of military vehicles in Saudi Arabia. EDGE is now pursuing "further opportunities in the kingdom", he says.
"The UAE and EDGE are well positioned to do this, because for many years this is exactly what the UAE did," Chambers notes. "We really understand a lot of lessons learned in terms of what works and what doesn't in terms of building up an industry.
"This gives us a slightly different insight," he notes. "We understand the challenges and we can bring that experience to the market."
Among EDGE's aerospace products on display at the show were the Garmoosha vertical take-off and landing unmanned air vehicle, QX-2 and QX-3 loitering munitions, and a broad array of precision-guided air-launched weapons.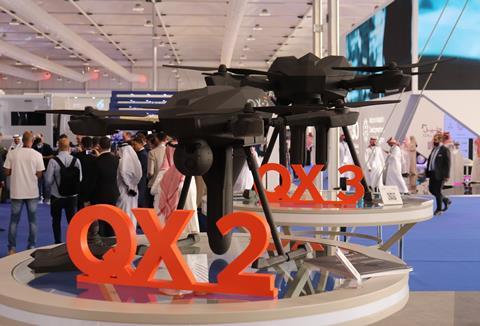 "EDGE's presence in the kingdom is only going to grow," Chambers says. "That growth will take many forms, including investment into the local defence industry.
"The Middle East and the GCC [Gulf Cooperation Council] is an important target market for our export growth," he says. "International business is very much at the forefront as the UAE's industries reach a degree of maturity. We have to look beyond just our local [UAE] customer. We are a UAE-based company, but we are really and truly a global business."
Chambers also provides an insight into the national benefits of pursuing industrial development such as that achieved by Abu Dhabi and sought via Riyadh's Vision 2030 drive.
"EDGE today provides a platform for young Emirati talent to work in a high-tech, fast-moving environment. A lot of our businesses are 15 or 20 years in the making, and today we have excellent engineering teams that are Emirati-led. That is proof that this process really works, and generates talent," he says.
"If you think of what the UAE has established as an industry in just 30 years – to a point where we have companies today where we have established joint ventures in other countries and established local manufacturing. We have moved beyond the UAE being this recipient of technology transfer, to the UAE being the one transferring the technology."