Israel Aerospace Industries (IAI) has signed a memorandum of understanding related to UAVs with two Indian companies.
The MOU with Hindustan Aeronautics (HAL) and Dynametic Technologies will be help promote the indigenous production of UAVs, under the auspices of the country's "Make In India" policy, says IAI.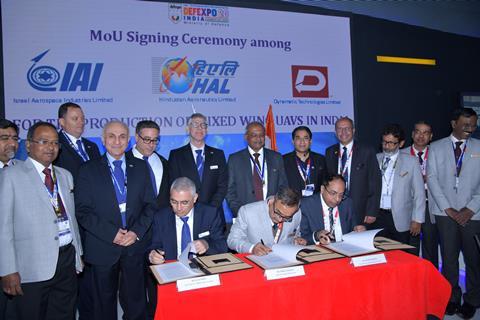 "The strategic partnership with the Indian corporations will allow the implementation of optimal solutions for the needs of the local customer based on their specific technologies and needs," says IAI.
"IAI has also established, with local collaboration, an MRO dedicated to UAVs to provide the customers with high-availability responses and quick maintenance."
The Indian military is understood to be a major user of IAI unmanned systems. Its arsenal includes the Harop loitering munition, Heron, and Searcher. IAI has also pitched the Heron TP for India.
"We are delighted to sign the strategic agreement with our partners, HAL and DTL," says IAI.
"India is an important strategic partner for UAVs and I'm confident the combination of IAI's extensive experience and the technological capabilities of HAL and DTL will lead to significant advancements in the field."
New Delhi is keen to develop its own indigenous UAV capabilities, particularly a medium-altitude, long-endurance UAV to for a tri-service requirement.
Indigenous efforts include the Defence Research and Development Organization's Rustom programme. The Rustom programme had a major setback in September 2019 when a Rustom II MALE system crashed during flight trials.
HAL is India's main producer of military aircraft. Dynametic's aerospace division has extensive experience in aerostructures.