New Delhi has signed off on an order for 83 Hindustan Aeronautics (HAL) Tejas Mk-1A Light Combat Aircraft.
The order covers 73 single-seat Tejas Mk-1As and 10 two-seat trainers, and is worth Rs457 billion ($6.4 billion), says India's defence ministry.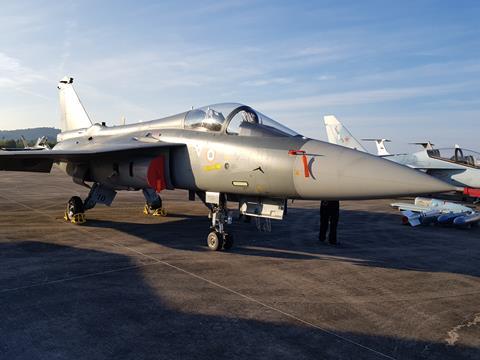 In addition to clearing the aircraft acquisition, the Cabinet Committee on Security also approved Rs12 billion for the development of infrastructure to support the aircraft.
The ministry, however, did not specify when deliveries from the new order will commence.
The deal was cleared by the Defence Acquisition Council last March, and follows previous orders totalling 40 aircraft. In 2006 the air force ordered 20 Mk-1s in Initial Operational Clearance (IOC) configuration, and in 2010 signed for 20 Mk-1s in a Final Operational Clearance (FOC) standard.
The Tejas Mk-1A will feature an Elta Systems EL/M-2052 active electronically scanned array radar and MBDA's ASRAAM short-range air-to-air missile, a unified electronic warfare suite, an onboard oxygen generation system, upgraded avionics, and a Cobham in-flight refuelling probe. The cockpit displays will also be upgraded and new indigenous weapons integrated.
The Tejas is powered by a single GE Aviation F404 engine.