Lockheed Martin has been awarded a repeat five-year contract to provide continued support for the Indian air force's (IAF's) 12-strong fleet of C-130J tactical transports.
Valued at $328 million, the Follow On Support II (FOS II) deal will manage the "programme, logistics and engineering support elements necessary to sustain the IAF's C-130J fleet", Lockheed says. This will mark a continuation of work from an existing five-year FOS I activity.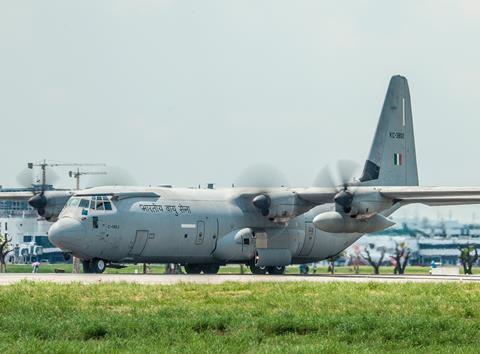 Lockheed says the new direct commercial sale agreement also will cover the provision of 12-year depot-level maintenance work, to be performed from 2022.
India ordered an initial batch of six C-130Js in 2008. Deliveries made between 2010 and 2011, and one example was lost during a fatal training accident in 2014. The nation strengthened its fleet via a follow-on deal, with the additional airlifters entering use between 2017 and 2019.
Although its Hercules are optimised to support special forces operations, the Indian air force "recently has been extensively using its fleet for humanitarian efforts in the wake of the Covid-19 pandemic, as well as for transportation of relief materials, equipment and personnel in the areas affected by cyclones Yaas and Tauktae," Lockheed notes.
"It is an honour to continue to partner with the Indian air force to support one of the most active C-130J fleets in the world," says Rod McLean, the company's vice-president and general manager, Air Mobility & Maritime Missions.