A Hindustan Aeronautics (HAL) Hawk-i advanced jet trainer (AJT) has conducted a successful test firing of India's Smart Anti-Airfield Weapon (SAAW).
The work took place off the coast of the Indian state of Odisha, and marked the first time that an Indian-produced Hawk has fired a smart weapon, says HAL.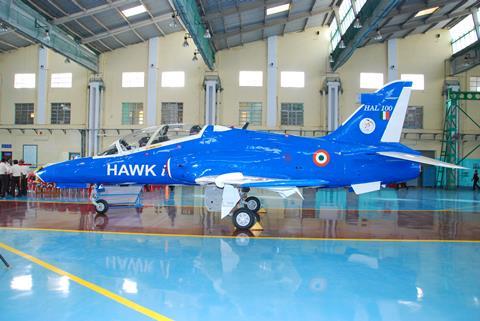 The Hawk-i is a locally upgraded version of the BAE Systems Hawk 132, which HAL produces under license.
HAL chairman R Madhavan says that Hawk-i is being "used extensively" to certificate weapons developed by the Defence Research Development Organisation (DRDO).
HAL says that the DRDO-developed SAAW glide bomb has a range of 54nm (100km) and is designed to strike airfield infrastructure such as runways, taxiways, bunkers, hangars, and radar installations. The weapon has already been test fired from the Sepecat Jaguar.
The Hawk-i was rolled out in early 2017 and made its public debut at that year's Aero India show in Bengaluru.
The updated aircraft features an indigenously developed mission computer and introduces a digital map generation system. An embedded virtual training system, secure voice communications and data link capability have also been incorporated.
HAL says the Hawk-i programme is internally funded, and offers New Delhi an upgrade path for the Hawk that enables it to serve as a capable AJT in peacetime, and a "potent combat platform during conflict".
Cirium fleets data indicates that the Indian air force has 104 in-service Hawk 132s.