Indonesia has placed an order for 42 Dassault Rafale fighters, concluding a long-discussed deal.
Dassault chief executive Eric Trappier and Indonesian Air Vice Marshal Yusuf Jauhari signed the deal in Jakarta, witnessed by the French and Indonesian defence ministers, says Dassault.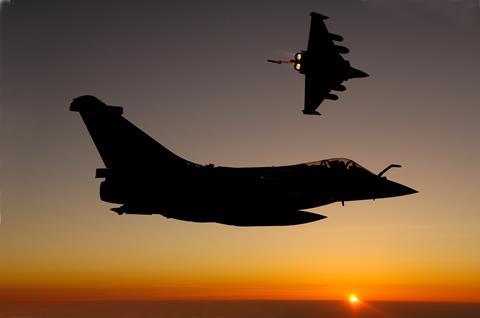 Dassault did not provide a value for the deal, but says it includes crew training, logistical support for Indonesian air bases, and a training centre with two full-mission simulators.
Dassault adds that industrial participation is also an element in the package, including technology from partners Safran and Thales.
No delivery timeline was given.
"It is a great honour for Dassault Aviation to see the Rafale join the highly prestigious Tentara Nasional Indonesia Angkatan Udara air force, and I would like to thank the Indonesian authorities for the trust they have placed in us," says Trappier.
"This contract marks the start of a long-term partnership that will see Dassault Aviation rapidly step up its presence in the country. It also demonstrates the strong bond between Indonesia and France and reinforces the position of the world's largest archipelago as a key power on the international stage. I am confident that the Rafale will meet the operational needs of the Indonesian air force, actively contributing to the defence and sovereignty of the Republic of Indonesia."
The prospect of an Indonesian Rafale buy emerged in 2020, when French media reported that Jakarta was in discussions to obtain 48 Rafales. In December 2020, French defence minister Florence Parly said the deal was "very well advanced".
A year later, in December 2021, Indonesia's Air Chief Marshal Fadjar Prasetyo said that a choice was imminent between the Boeing F-15EX and Rafale. Earlier in the year, he had suggested a split buy, of 36 Rafales and eight F-15EXs.
The announcement is another export coup for the twin-engined French fighter, with Indonesia becoming the seventh international customer to order the type after Egypt, Greece, India, Qatar, the United Arab Emirates, as well as Croatia, which will acquire 12 second-hand Rafales from France.