Indonesia's air force has taken delivery of the first of five Lockheed Martin C-130J-30 tactical transports at a ceremony in Marietta, Georgia.
Indonesian air force chief of staff Air Marshal Fadjar Prasetyo formally accepted the aircraft from Lockheed vice-president Rod Mclean, according to an air force statement.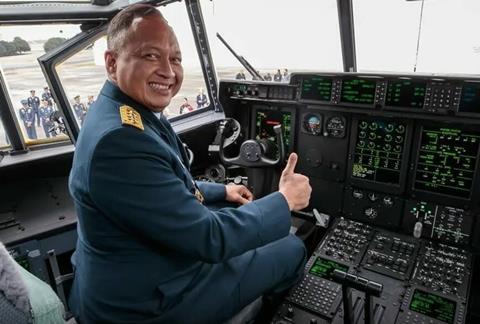 The aircraft bears the registration A-1339 and will depart from the USA to Indonesia on 28 February, arriving in Indonesia on 6 March.
"Indonesian air force crews have long trusted the C-130 to support the most challenging of missions facing Indonesia and other nations in the Pacific," says McLean.
"This new era of Super Hercules operations supports Indonesia in achieving mission success with a highly tailored airlift fleet that ensures [Indonesian air force] crews can support any task – anywhere, anytime – with more power, strength and capability for decades to come."
The delivery stems from a September 2021 order. Neither the Indonesian air force or Lockheed stated when the subsequent aircraft will be delivered.
Cirium fleets data indicates that Jakarta has 24 in-service C-130-family aircraft, comprising three C-130Bs, 11 C-130Hs, five C-130H-30s, one KC-130B, and four L-100-30s. The average age of this fleet is 46.4 years, with ages ranging from 40.7 to 62.6 years.
Jakarta also has orders for a pair of Airbus Defence & Space A400M transports. The A400Ms will be delivered from 2026 and will also be equipped for tanker duties.
Indonesia has options to take its A400M fleet up to six examples.