Italy has formalised an order for six Piaggio Aerospace P180 Avanti Evo turboprops for the country's armed forces.
Signed by defence minister Lorenzo Guerini on 1 October, the commitment is valued at €171 million ($198 million).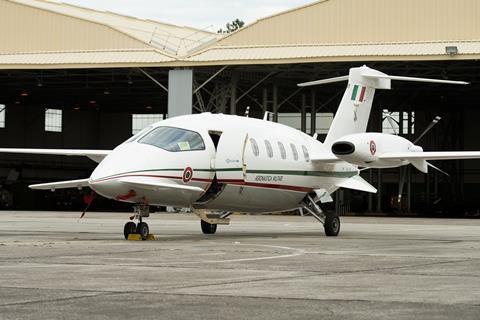 The deal also includes the provision of a P180 full flight simulator and continued maintenance of the Rolls-Royce Viper engines powering the Aermacchi MB-339s operated by the Italian air force's Frecce Tricolore display team.
Piaggio Aerospace has been in extraordinary administration – a form of business rescue – since 2018, with the sale process now down to a final bidder.
Vincenzo Nicastro, Piaggio Aerospace's extraordinary commissioner, says the order shows the Italian government fulfilling its "commitment" to the company's turnaround.
"Notably, these six new aircraft bring the total order portfolio of the P180, including private customers, to 20 units."
Separately, Piaggio and Safran Helicopter Engines have signed a letter of intent to allow the Italian firm to manufacture parts for the latter's Ardiden engine range.
Building on work carried out on the Aneto and RTM322 engine programmes, the new agreement covers both the turboshaft variant of the Ardiden for helicopters and the newer 3TP turboprop.
Currently the Ardiden 3C and 3G variants respectively power the Avicopter AC352 and Kamov Ka-62 medium-class helicopters.
However, Piaggio's inclusion in the programme should be seen as a means of strengthening the pan-European credentials of the 3TP turboprop, which Safran is pitching as the engine for the four-nation EuroDrone programme. Here it faces competition from the Czech-built GE Catalyst engine, which also includes GE subsidiary Avio Aero in its supply chain.