Italy's defence ministry has signed a €380 million ($426 million), five-year contract covering in-service support for its air force fleet of Lockheed Martin C-130J tactical transports.
Signed in late January, the award was placed with an industrial group comprised of Italy's Leonardo and propulsion specialist Avio Aero, plus Lockheed Martin Aeronautics.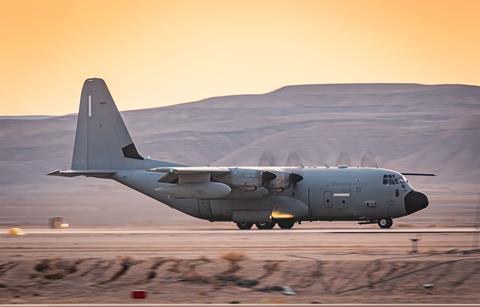 "Contract activities include the implementation of a technical-logistical model that provides integrated logistical support, in-house engineering support and on-site support through operational technical representatives at the 46th Air Brigade [based] in Pisa," Leonardo says.
"Aircraft maintenance activities are also envisaged at Leonardo's plant in Tessera near Venice and Avio Aero's plant in Brindisi," it adds.
Dario Marfe, senior vice-president marketing, sales, customer support & services at Leonardo's Aircraft division, says the framework will guarantee "operational continuity… and the readiness to carry out any type of mission".
Avio Aero will provide a performance-based logistics service supporting the type's Rolls-Royce AE 2100D3 turboprop engines. The company says this will enable it "not only to optimise performance, but also to implement ever more effective and functional solutions in response to the needs of the Italian air force".
Trish Pagan, vice-president of international programmes at Lockheed's Air Mobility & Maritime Missions business area, notes: "This partnership allows Lockheed Martin to pair our original equipment manufacturer insights with our trusted partners at Leonardo and Avio Aero to ensure Italy's C-130J Super Hercules fleet is ready to support any mission".
Cirium fleets data shows that the Italian air force has a 20-strong fleet of J-model Hercules, including 14 airlifters and six KC-130J tanker/transports. The service has operated the type since 2000.