Indonesian has resumed payments related to its share of developments costs for the Korea Aerospace Industries (KAI) KF-21 Boramae fighter.
Jakarta has made a payment of W9.4 billion ($6.6 million) for the project, according to South Korea's official Yonhap news agency, citing a source.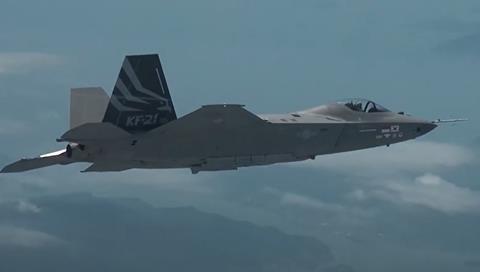 Under the terms of the agreement, Jakarta is to pay 20% of the W8.8 trillion price tag for the fighter. Jakarta ceased making payments in 2017 as it sought to negotiate down the cost of its involvement in the KF-21, which is undergoing flight testing.
Signs of a potential payment breakthrough emerged in September, when the head of South Korea's Defense Acquisition Program Administration, Eom Dong-hwan, said that discussions with Jakarta suggested that Jakarta would gradually start paying for its share in the programme.
Eom also said that Jakarta had paid 30% of its share through unspecified "in-kind payments." South Korean media reports suggest Jakarta is still some W800 billion in arrears.
Eventually, South Korea is expected to operate 120 KF-21s and Indonesia 50.
Separately, flight tracking website FlightAware indicates that a modified Boeing 737-500 (ZS-TFJ, MSN26541) being used to test the KF-21's active electronically scanned array (AESA) radar has not flown since 27 September.
It's last flight lasted over three hours, with the aircraft, operating from Seoul Incheon, conducting orbits up and down the west coast of South Korea over the Yellow Sea.
The KF-21's AESA radar was developed locally, with Hanwha Systems providing the hardware and LIG Nex1 the software.
The KF-21's first prototype conducted its maiden sortie on 19 July. Powered by two GE Aviation F414 engines, the KF-21 will replace the McDonnell Douglas F-4 Phantom and Northrop F-5 in Republic of Korea Air Force service.