Korea Aerospace Industries (KAI) has landed a W274 billion ($238 million) deal to provide Indonesia with six additional T-50i advanced jet trainers.
The company announced the deal in a Korean language stock exchange statement.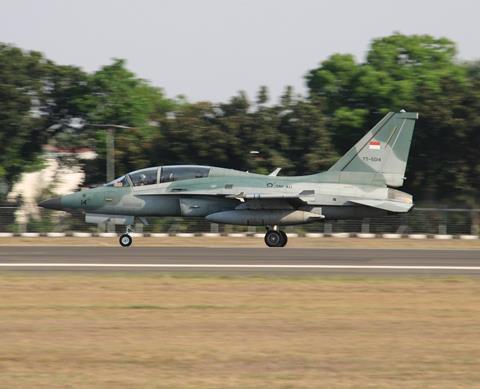 The contract period runs from December 2021 to October 2024, and will bring Indonesia's fleet of T-50i aircraft to 21.
Jakarta became the first export customer for the GE Aviation F404-powered aircraft when it signed a $400 million deal for 16 aircraft in 2011.
The Indonesian air force, however, only has 15 examples in its inventory following the crash of a T-50 in December 2015 during an aerial display, in which both crewmembers were killed.
In addition, an Indonesian air force T-50 suffered extensive damage in August 2020 when it skidded off the runway during take off, although neither crewmember was hurt.
It is understood that the T-50i is similar in capability to the FA-50 attack variant, with guns and radars installed in the fleet following a 2018 contract.
The T-50 family has enjoyed notable success in Southeast Asia.
The Philippine air force operates 12 examples of the FA-50 attack variant stemming from a 2014 order, which saw the service receive its first fast jets since the retirement of its Northrop F-5s in 2004.
In addition, the Royal Thai Air Force operates 12 T-50THs.
KAI has also expressed interest in Malaysia's Light Combat Aircraft requirement for 18 aircraft. Other contenders could include the Yakovlev Yak-130, Chengdu/Pakistan Aeronautical Complex JF-17, Leonardo M-346, and Hindustan Aeronautics Tejas.
The largest operator of the type is the Republic of Korea Air Force, which operates 146 T-50 variants, with firm orders for 20 more.
The type is also operated by Iraq, which has 24 examples.