Korea Aerospace Industries (KAI) has undertaken a reorganisation to help it better meet the demands of the domestic and international defence market.
While retaining is prevailing structure, KAI says it is working towards greater efficiency, boosting exports, and placing a greater emphasis on customers.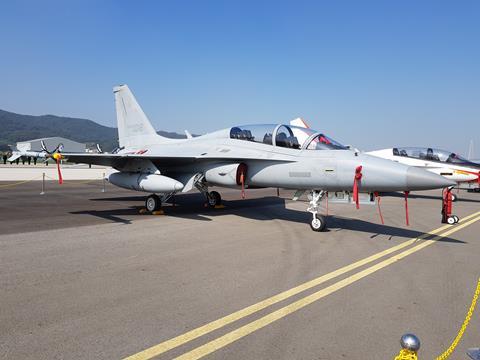 It adds that the reorganisation saw 20% of its staff "slimmed down", with some common functions across business units combined.
To better address the global defence aerospace market, KAI has set up a new research & development arm, the 'Future Convergence Technology Institute'. The institute will explore future aircraft technologies.
In addition, a new customer service centre will be set up to follow the growth of the world's FA-50 fleet – including new sales in 2022 – as well as the planned production ramp-up of the Light Armed Helicopter (LAH).
"In this reorganisation, we focused on organisational synergies to strengthen business competitiveness, such as strengthening management efficiency as well as expanding exports and preoccupying future business technologies," says chief executive Kang Gu-young.
"We also expanded the number of young managers to select talent and build an active and energetic organisational culture."
Last year was pivotal for KAI, with Poland ordering 48 FA-50PLs to replace aging Soviet-era types, and the first flight of the KF-21 fighter in July.
KAI also signed a deal with Lockheed Martin related to marketing the T-50 trainer (on which the FA-50 is based) on the international market. KAI also secured work for new variants of the KUH-1 Surion helicopter.
In late December 2022, KAI secured its first LAH production contract from South Korea's Defense Acquisition Program Administration (DAPA). The W302 billion ($238 million) deal covers 10 LAHs, with the first delivery to take place in December 2024.
The contract followed Seoul's Defense Program Promotion Committee granting its approval of LAH mass production in late November 2022.
The LAH and its Light Civil Helicopter variant are based on the 4.5t Airbus Helicopters H155. In South Korean service, the LAH will replace ageing Bell AH-1S Cobras and MD Helicopters MD500 Defenders.
The LAH is armed with a 20mm cannon, 70mm rockets, and guided air-to-ground weapons, according to KAI. Digitally rendered promotional videos from KAI show the type operating in the scout role, as well as attacking tanks and wheeled vehicles.