Korea Aerospace Industries (KAI) will pitch the FA-50 for a Slovakian requirement for new advanced jet trainers, as Seoul and Jakarta continue to discuss KF-21 costs.
The Slovakian requirement could see the NATO member obtain 10 new trainers in a deal worth $500 million, according to South Korea's Defense Acquisition Program Administration (DAPA).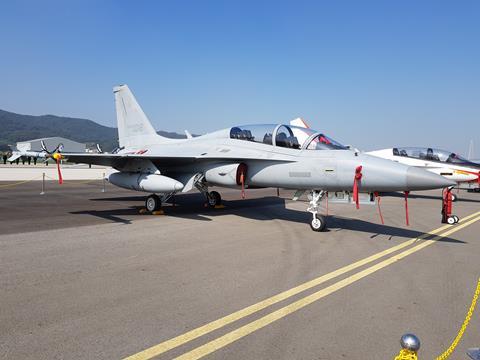 The announcement was made during a visit by DAPA director Kang Eun-Ho to Budapest, where he participated in the Korea-V4 summit involving the leaders of the Czech Republic, Hungary, Poland, Slovakia, and South Korea.
As part of its bid, KAI will sign a memorandum of understanding with Slovakian state defence company LOTN.
"With the conclusion of this business agreement, various discussions such as industrial cooperation plans between KAI and LOTN to participate in the FA-50 model in the Slovak trainer acquisition project will be able to proceed," says DAPA.
Slovakia seeks to replace its ageing Aero Vodochody L-39 trainers. Media reports have suggested that other aircraft being pitched for the deal are the Czech airframer's L-39NG, BAE Systems' Hawk and the Leonardo M-345 or M-346.
Separately, Yonhap reports that Jakarta and Seoul will hold a final round of negotiations next week related to cost sharing for the KF-21 fighter, in which Indonesia is a junior partner.
The talks will involve KAI, as well as negotiators from the governments of both countries.
Jakarta is supposed to foot 20% of the W8.8 trillion ($7.4 billion) in development costs for the fighter, but has run up W704 billion in overdue payments. For the last few years it has expressed a desire to renegotiate its participation.
As the coronavirus pandemic made itself felt in the second quarter of 2020, Jakarta recalled its technicians from working on the project.
Still, defence minister Prabowo Subiantio attended the fighter's roll-out in April, and some Indonesian technicians have returned to South Korea.