Manila will consider the Korea Aerospace Industries (KAI) KF-21 fighter for its long-running multi-role fighter (MRF) competition, as it also eyes an additional 12 FA-50PH light attack jets.
In remarks to local media, Philippine Air Force (PAF) colonel Maynard Mariano says that Manila is monitoring progress with the twin-engined KF-21 Boramae, which had its first flight on 19 July.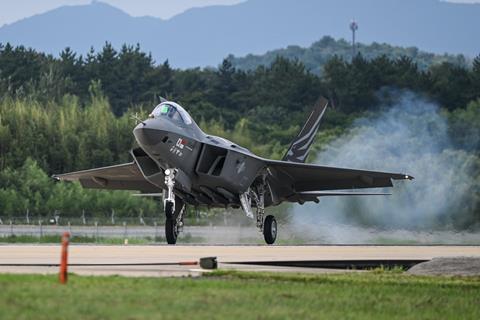 "It is a possibility given that the MRF (project) has not been funded yet, the KF-21 can be a contender for the MRF (project)," he is quoted as saying.
He reportedly made the remarks at the Cesar Vasa Air Base, where the Republic Of Korea Air Force display team, the Black Eagles, performed with the T-50B, the flying display variant of the T-50 trainer on which the FA-50 is based. The PAF posted photos of its FA-50PHs flying in formation with the T-50Bs.
"The [air force] is monitoring [KF-21], we cannot close our options when there are new systems that may be able to compete with other systems and which may fit into our requirement for defence. In this day and age, the prototyping stage for any system can be done faster due to the available technology, and we might see it fielded soon."
Mariano's remarks about KF-21 come two months after Lt. General Connor Canlas said that the MRF deal was approved by former president Rodrigo Duterte. The approval came two weeks before Duterte was replaced by Ferdinand Marcos Jr.
The two contenders for the 12-aircraft MRF requirement are single-engined types: the Lockheed Martin F-16 Block 70/72 and Saab Gripen C/D. Canlas also said a contract could be signed by the end of 2022.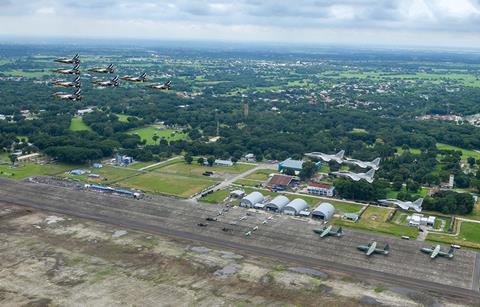 A lack of urgency and funding challenges characterise the MRF acquisition. As early as 2018 former defence secretary Delfin Lorenzana said Gripen was the best option for the deal, but no commitment was forthcoming. In 2021, Lorenzana complained the F-16 was too expensive – the US valued its Foreign Military Sales case for the deal at $2.43 billion.
Both the Lockheed and Saab fighters are in service, while the KF-21 faces years of development. Assuming all goes well, development will be completed by 2026, followed by service entry in South Korea.
Seoul is to get 120 examples, and Indonesia, the junior partner in the programme, 50.
Mariano also said that Manila is also considering an additional 12 FA-50PHs. At the Farnborough Airshow in July, Lee Bong Keun, vice-president and general manager of KAI's international business division, told FlightGlobal that discussions were underway for 12 additional aircraft.
According to KAI, a follow on order of FA-50PHs would include the Lockheed Martin Sniper Pod, and an improved capability for precision weapons. Manila is also in the process of inducting eight new KT-1 basic trainers.