Lockheed Martin has reported net sales valued at slightly over $67 billion for 2021, with its record performance up 3% from roughly $65.4 billion the previous year.
The company's Aeronautics business accounted for over $26.7 billion of the sales total; up 2% versus 2020. The unit delivered a total of 142 F-35 fighters and 22 C-130J tactical transports during 2021.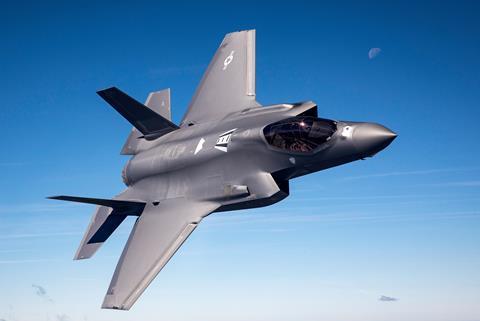 Rotary and Mission Systems activities – including by the company's Sikorsky subsidiary – contributed sales worth almost $16.8 billion, followed by its Space ($11.8 billion) and Missiles and Fire Control (nearly $11.7 billion) units.
Hailing the performance despite the challenging operating conditions caused by the Coivd-19 pandemic, Lockheed chief executive James Taiclet says the company expects to see continued sales growth through 2026.
"We continue to invest in the many emerging growth opportunities ahead – from new aircraft competitions around the world, to our classified portfolio, to solid demand for our signature programmes, to emerging technologies like hypersonics," Taiclet says.
The company spent $1.5 billion on internal research and development activities last year, with a focus on hypersonics, directed-energy weapons and artificial intelligence, he notes. Recent milestones have included opening a new hypersonic missile production facility in Courtland, Alabama, and a new advanced manufacturing facility at its Skunk Works site in Palmdale, California.
However, one of Lockheed's efforts to further its credentials in advanced propulsion technologies – a planned $4.4 billion acquisition of Aerojet Rocketdyne announced in December 2020 – is under threat.
"Lockheed Martin has been advised by the Federal Trade Commission (FTC) that its concerns regarding the transaction cannot be addressed adequately by the terms of a consent order," the company says.
Speaking during a results call with investors on 25 January, Taiclet said the company has a 30-day window to decide whether to defend or terminate the proposed acquisition.
"Lockheed Martin continues to believe in the benefits of the transaction for the United States and its allies, the industry, and all of the company's stakeholders," the company notes.
Lockheed's 2020 business performance positioned the company in first place in FlightGlobal's most recent annual aerospace Top 100, while Aerojet Rocketdyne was ranked 37th, with sales valued at $2 billion.
Meanwhile, discussions continue with the US Department of Defense's F-35 Joint Program Office (JPO) around a proposed five-year performance-based logistics contract, with a response to a request for proposals to be submitted within "the next couple of months".
Talks also continue with the JPO in a bid to agree pricing for Lot 15 through Lot 17 production of the F-35; a process which has been ongoing since the USA announced its intention to order fewer aircraft than in lots 12-14.
"We will continue using a data-driven process for as long as it takes to reach agreement based on what it is actually going to cost to build these aircraft," says acting chief financial officer John Mollard. He also points to the impact of inflation and the pandemic on Lockheed and its supply chain partners.