Airbus and Leonardo are likely to face an additional rival in pursuit of the UK military's New Medium Helicopter (NMH) requirement, with Lockheed Martin's UK operation also eyeing an offer based on the Sikorsky UH-60 Black Hawk.
"The Black Hawk is a stunning, unparalleled capability," Lockheed Martin UK chief executive Paul Livingston told FlightGlobal on 19 July. "The question is: could we find a way to market it in the UK that is acceptable to meet the challenges of the [nation's] Defence Industrial Strategy? I think that is something we will look very carefully at – can we make the right kind of offer to bring that together?"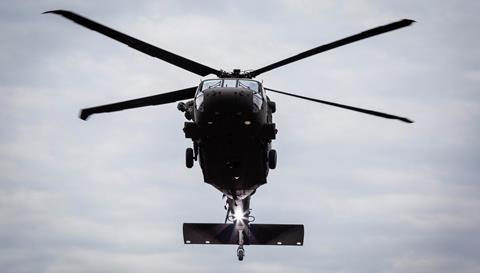 US airframer Sikorsky produces the UH-60M at its Stratford site in Connecticut, while its PZL-Mielec subsidiary manufactures the rotorcraft's S-70i variant in Poland. With around 1,800 employees and a presence at more than 20 operating sites, Lockheed Martin UK would be likely to consider working in partnership with other companies to perform in-country completion work.
Livingston highlights the international competiveness of the UH-60, noting: "You have to struggle to beat the capability of a Black Hawk, particularly for its price point."
Sikorsky offered the UK an acquisition of the type as part of a competition prior to a 2008 decision to have Airbus upgrade the Royal Air Force's (RAF's) Puma medium support helicopters to an HC2 standard.
Firm details of the NMH requirement – such as the number of rotorcraft sought and entry into service target – have yet to be released by the UK Ministry of Defence. However, it has outlined a broad need to from the middle of this decade field replacements for the RAF's 23-strong Puma fleet, plus British Army-operated Bell 212/412s and Aerospatiale AS365 Dauphins.
Airbus Helicopters is pitching a proposed military development of its H175 featuring increased local content in place of originally Chinese-supplied components, while Leonardo Helicopters has pledged to produce the AW149 at its Yeovil site in Somerset if selected.
Published earlier this year, the UK's Defence and Security Industrial Strategy places increased emphasis on a so-called prosperity agenda, with the creation and retention of skilled jobs to receive increased consideration when assessing potential future equipment orders.