Airbus Defence & Space has delivered an A400M Atlas for Luxembourg; its penultimate contracted customer to receive the tactical transport.
Transferred from the company's San Pablo final assembly site in Seville, Spain, the airlifter (CT-01) arrived in Luxembourg on 7 October, after a 3h flight. A formal acceptance event will occur on 8 October, before the aircraft is ferried to its operational home at Melsbroek air base in Belgium.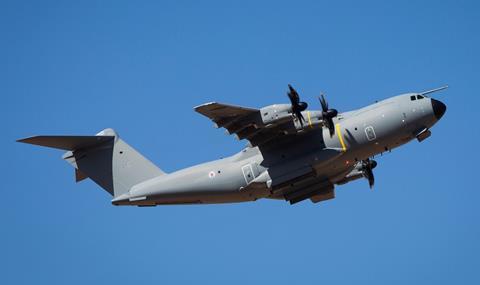 Luxembourg has acquired one A400M, for operation as part of a joint unit with the Belgian Air Component. Airbus says Brussels is due to receive its first of seven aircraft "in the coming weeks".
Atlas transports have previously been delivered to the air forces of France, Germany, Spain, Turkey and the UK, plus lone export customer Malaysia.
"With 94 aircraft in service, the A400M is increasingly becoming the air mobility backbone of our customers, both in civil and military environments, as seen in recent Covid-19 crisis missions around the globe," says Airbus Defence & Space Head of Military Aircraft Alberto Gutierrez.