The Spanish air force's first pair of Pilatus PC-21 turboprop trainers have arrived at its San Javier air base in Murcia, with type acceptance activities by Madrid's DGAM military procurement body due to be finalised on 17 September.
Ordered in January 2020, Spain's full fleet of 24 new basic trainers is due to be transferred by next June, with the air force planning to launch its first training course with the type three months later. The Swiss-built aircraft will replace the service's aged CASA C-101 jet trainers.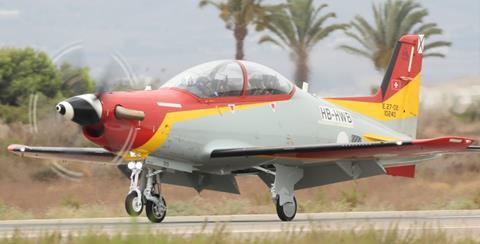 Images released by the Spanish defence ministry show that the delivered aircraft carry the service registrations E.27-01 and -02 (10239 and 10240). The first of these made its debut flight from Pilatus's Stans manufacturing site in December 2020.
"Not only will the PC-21 revolutionise our pilot training and take it to a whole new level, it will also allow us to reduce the cost," says DGAM deputy director general of programmes Brigadier General Leon-Antonio Maches.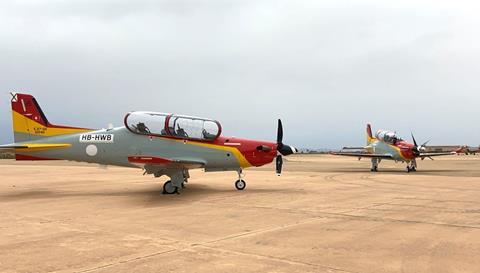 Pilatus claims that the total cost of training a student pilot using the PC-21 is half that of employing a jet trainer for the task.
Valued at €204 million ($240 million), Madrid's deal with Pilatus also covers the provision of two full-flight simulators, two cockpit simulators, a mission planning and debriefing system, support services and an initial package of spare parts.