Mali will introduce a second C295 transport to operational use in 2021, after signing a repeat order for the type with Airbus Defence & Space.
Announcing the order on 2 December, Airbus said the twin-turboprop will join a lead example which, since its delivery in December 2016, has transported more than 38,000 passengers and 900t of cargo, while accumulating 1,770 flight hours.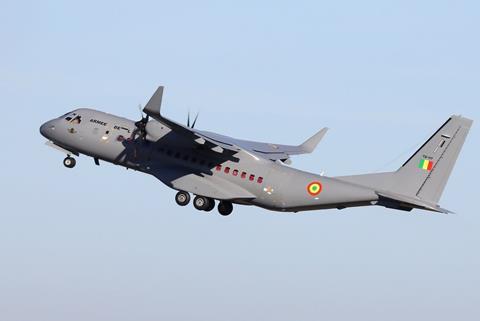 "This acquisition is in response to the urgent need of the authorities of the Republic of Mali to have permanent air transport capacity within a very short timeframe, providing a vital link supporting operations and actions for the development of isolated areas in the northern regions of the country," Airbus says.
"This new order also includes an integrated logistics support package with spare parts for the two aircraft and training for flight crews and mechanics," the airframer adds.
Mali's air force inventory also includes a pair of Harbin Y-12E transports and a single Antonov An-26, Cirium fleets data shows.