The Philippine air force has taken delivery of the first of two Lockheed Martin C-130H tactical transports provided under the US government's Excess Defence Articles programme.
The air force took delivery of the former US military aircraft on 29 January at the Colonel Jesus Villamor air base, says the country's defence department.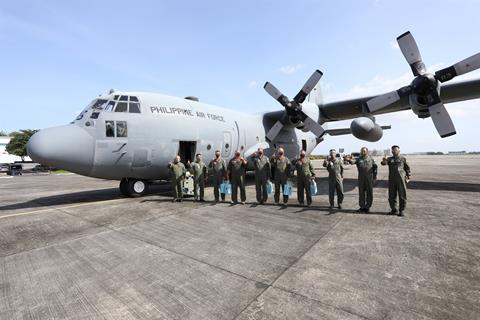 The two aircraft will be used in the tactical airlift role, and also for HADR (humanitarian assistance and disaster response) missions.
According to the US Defence Security Cooperation Agency, the two aircraft were requested in 2019, with the US Air Force responsible for implementing the transfer. The value of the two aircraft is listed as $24 million.
Cirium fleets data shows that prior to the arrival of the new aircraft, Manila had four C-130s in its inventory, with an average age of 43.8 years.
Separately, Indonesian Aerospace disclosed that it has delivered a locally-produced NC212i tactical transport the Indonesian air force, the first delivery from a 2017 order for nine aircraft.
Of the nine aircraft, four will be troop transports, four will perform aerial photography and cloud seeding, and one will to be used for navigation training.
Since the early 2010s, the Airbus Defence & Space C-212 has been produced exclusively by Indonesian Aerospace in Bandung.