India has contracted the UK's Marshall Aerospace to provide scheduled depth maintenance for its air force fleet of 12 Lockheed Martin C-130J tactical transports.
"The contract will see the company carry out in-depth [12-year interval] maintenance inspections on the Indian fleet," Marshall said on 10 May.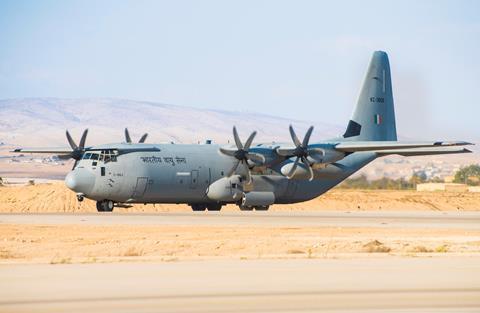 "As one of the largest air forces in the world, the Indian government can rely on Marshall Aerospace to deliver the same level of experience, expertise and value that has made us the first choice for heavy maintenance on the C-130 for many operators across the globe," says Neil McManus, the military MRO provider's managing director.
Marshall notes that the Indian air force fleet features "a highly integrated and sophisticated configuration primarily designed to support India's special operations requirement", plus airlift, search and rescue and humanitarian relief tasks.
Cirium fleets data shows that the service's dozen J-model Hercules are aged between two and 11 years. The fleet is operated from Hindan air base near Delhi.
An image supplied by the UK company shows India's oldest of the aircraft – registered KC-3801 – arriving at its Cambridge airport site on 25 April. It is now undergoing maintenance as part of contract, which was placed in October 2021.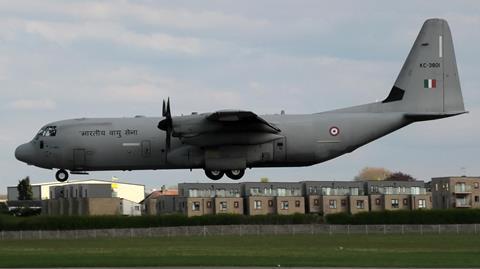 "It's important that we can count on our longstanding service centre, Marshall Aerospace, to support one of the most active C-130J fleets in the world," says Curtis Jones, Lockheed's C-130 India programme manager. "Through an integrated team and dedicated support, together we can ensure the Indian air force's C-130J fleet is available and ready for every mission."