Meggitt has been awarded a £4.2 million ($5.6 million) contract to develop an updated radome compatible for use with the active electronically scanned array (AESA) radar being developed for installation on some of the UK Royal Air Force's (RAF's) Eurofighter Typhoons.
Announcing its receipt of the award from BAE Systems on 10 November, Chris Allen, president of Meggitt's Airframe division, said the work will be conducted at the company's Stevenage site in Hertfordshire.
"Meggitt has used its advanced composite expertise to design a new higher and broader bandwidth radome to protect the [radar] instrumentation from environmental effects, [and] prevent electromagnetic interference whilst being aerodynamically stable and highly transmissive for the AESA radar system's operational modes," the company says.
The UK Ministry of Defence in early September cleared the way for Leonardo UK to complete development work on the European Common Radar System (ECRS) Mk2 sensor, and deliver an initial batch for flight-testing purposes from 2022.
Up to 40 of the RAF's Tranche 3-standard Typhoons could be equipped with the technology, which will also include wide-band electronic attack and high-power jamming functionality. Initial operational capability is targeted for 2025.
Meggitt says it will supply "innovative nose radome technology to enable the effective operation" of the ECRS Mk2 array.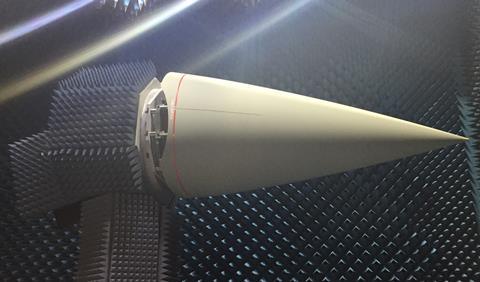 Meanwhile, BAE on 11 November described a German parliamentary decision to approve a follow-on domestic purchase of 38 Eurofighters as "significant for the consortium" producing the jet.
"We are working with Eurofighter GmbH and our industrial partners to conclude the relevant contracts in the near future," the UK company says.
To be acquired via Berlin's Project Quadriga effort to replace the German air force's oldest Tranche 1 Eurofighters, the new batch will undergo final assembly at Airbus's Manching site near Munich, with major assemblies also supplied by BAE and Leonardo.