Brazil's Link-BR2 programme, which aims to introduce a secure datalink capability across its armed forces, has been advanced via flight tests involving two modified Northrop F-5M fighters.
Conducted by the Brazilian air force (FAB) and Elbit Systems' local subsidiary AEL Sistemas – prime contractor for the Link-BR2 effort – the activity involved equipping the aircraft with E-LynX software-defined radios.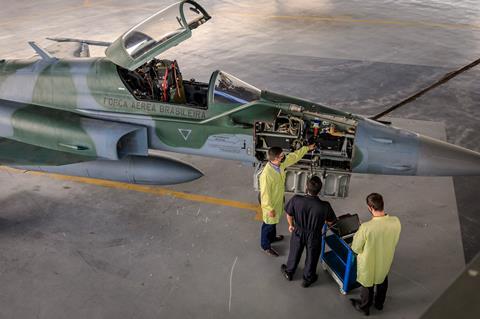 "Demonstrating the capability of simultaneous multi-channel transmission [of audio and data], the Link-BR2 enabled aerial and ground forces to perform target interception, receipt of information from ground radars and rapid closing of sensor-to-shooter loops," Elbit says. This "multi-domain interoperability" also provided a common operational picture, it adds.
Cirium fleets data shows that Brazil has a 46-strong fleet of F-5EM/FMs, aged up to 47 years.
"The next phase of integration will be onboard Saab's Gripen NG aircraft, while the Link-BR2 programme roadmap includes integration of the system capabilities onboard all of the FAB aircraft," Elbit says.
Brazil will field a fleet of 36 locally-designated F-39E/F Gripens, with an initial example having been flown to the country so far to support evaluation activities.
Elbit notes that its E-LynX product range has also previously been selected by the armed forces of Israel, Sweden and Switzerland, plus Spain "and other NATO countries".