The Royal New Zealand Air Force (RNZAF) has retired its Lockheed P-3K2 Orion maritime patrol aircraft, after nearly six decades of service.
The retirement of the 5 Sqn aircraft followed flypasts around the country's Southern Island by the RNZAF's remaining two examples. The country's defence force chief Kevin Short and air force chief Air Vice-Marshal Andrew Clark were both aboard the aircraft.
In late January, three P-3K2s had conducted flypasts around the North Island.
"The service has employed six P-3K2 Orions for airborne surveillance and reconnaissance of New Zealand's areas of economic interest, exclusive economic zone, the South Pacific, and the Southern Ocean, including Antarctica," says the New Zealand Defence Force.
"Over the past six decades crews have found hundreds of missing people drifting in vessels in the Pacific and have been the first to arrive at scenes where natural disasters have struck, both in Aotearoa New Zealand and in our neighbouring Pacific Islands. They have also operated beyond our region in security and stability roles."
New Zealand's P-3K2s were effective right up to the end of their careers. On 17 January, 5 Sqn located two missing fisherman from Kiribati, and dropped a survival kit containing water, a radio, a torch, and a locator beacon. The pair were subsequently picked up by a rescue vessel.
Original plans had called for the Orion fleet to be retired in mid-2023, but last December Wellington announced this would be move up by five months, citing sustainment issues while the RNZAF is also transitioning to the P-3's replacement, the Boeing P-8A Poseidon. The pending arrival of the RNZAF's new fleet of Lockheed Martin C-130J-30 tactical transports in 2024 created additional personnel issues.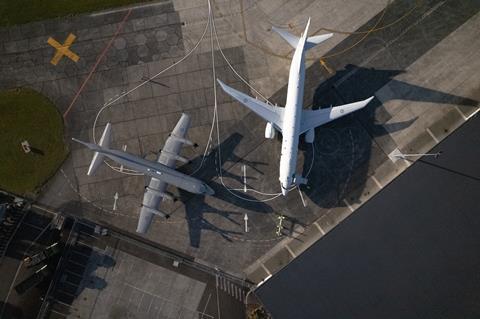 In late January, the RNZAF conducted its first training flight with the P-8A since the first aircraft arrived in December 2022. Operating from its base at Ohakea, the aircraft flew to Whenuapai and Christchurch. It also practiced patrol work off New Zealand's West Coast and Hawke's Bay.
New Zealand will ultimately operate four P-8As, with the balance of the fleet to be delivered in 2023.