Northrop Grumman is offering its E-2D Advanced Hawkeye to meet NATO's future airborne surveillance needs, having responded to a recent request for information (RFI) from the alliance.
"Northrop Grumman and select members of the ASPAARO [industry] team have responded to NATO's RFI, with a solution that integrates the E-2D Advanced Hawkeye with enhanced networked capabilities, preserving the NATO vision of multi-domain command and control," the company says.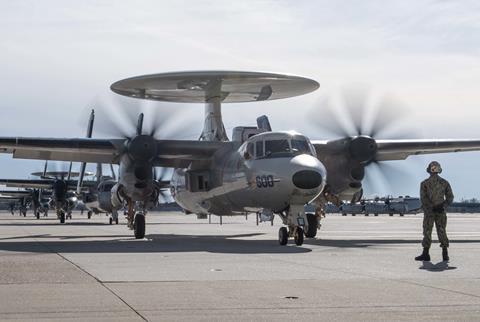 "The E-2D will equip NATO and its member countries with technology that has continuously outpaced evolving threats," says Janice Zilch, Northrop's vice-president, multi-domain command and control programmes.
Zilch describes the Advanced Hawkeye system as offering "the most comprehensive multi-domain battle management command and control solution at the most competitive operational cost".
The E-2D is currently operated by the US Navy and Japan Air Self-Defence Force, with the French navy also having ordered the type.
NATO's requirement will deliver a replacement capability for its Boeing 707-based E-3 airborne warning and control system fleet, which is expected to leave service by 2035.
Other candidates for a future contract are the Boeing 737NG-based E-7A and Saab's GlobalEye, which uses a Bombardier Global 6000 airframe.

Craig Hoyle joined Flight International in 2003, and has edited the now monthly title since 2015. He has reported on the UK, European and international military aviation sector for more than 25 years, and produces our annual World Air Forces directory.
View full Profile