Canada has formally taken receipt of its first C295 fixed-wing search and rescue (FWSAR) aircraft from Airbus Defence & Space, with the asset to be used in support of personnel training activities in Europe for the next several months.
Accepted at the manufacturer's San Pablo site in Seville, Spain, the twin-turboprop is the first of an eventual 16 being acquired via Ottawa's FWSAR programme.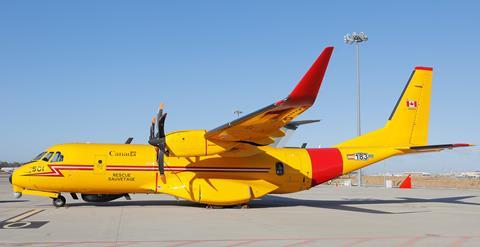 Announcing the development on 20 December by Twitter, Airbus says that following additional testing and training the aircraft will be flown to its home base at Comox, British Columbia, "by mid-2020".
The Royal Canadian Air Force will field the FWSAR-configuration aircraft – locally designated as the CC295 – as replacements for aged De Havilland Canada DHC-5s and Lockheed Martin C-130Hs flown during search and rescue operations.
Adaptations made for the Canadian programme have included installing Collins Aerospace Pro Line Fusion avionics, reinforcing the lower rear fuselage and adding an upper escape hatch for use in the event of ditching at sea, fully enclosing its main landing gear and incorporating vortex generators on the rear ramp.
Mission equipment includes a maritime search radar, turret-housed electro-optical/infrared sensor and enhanced vision system, plus two onboard operator stations, maritime automatic identification system equipment and large bubble observation windows.
The air force's Comox base – which also will be home to a new FWSAR training centre – will eventually accommodate five CC295s. Three aircraft each will be stationed in Winnipeg, Manitoba, Trenton, Ontario, and Greenwood, Nova Scotia, with the remaining two airframes to be positioned as required to support operations.