Pakistan's air force has brought a trio of JF-17 fighters to make the type's Bahrain show debut, with the "Thunder" taking part in the flying display.
Operated by the air force's 2 Sqn "Minhasians" unit, the Chengdu/Pakistan Aeronautical Complex-produced Block II jets arrived on 6 November after a non-stop flight from Masroor air base. They were supported by an Ilyushin Il-78 tanker, but did not need to undergo inflight refuelling to complete the deployment.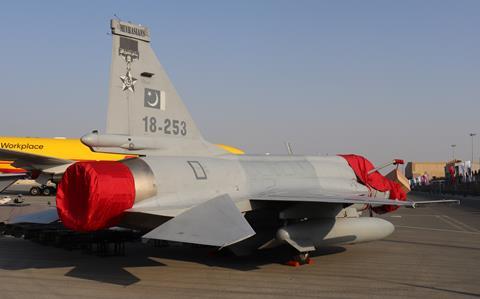 Cirium fleets data shows that the Pakistan air force operates 109 JF-17 fighters and 25 B-model trainers, with another 50 on order.
While development partner China has not acquired the single-engined model, both nations are promoting it on the international stage. So far Beijing has brokered a 16-aircraft sale to Myanmar, and Islamabad secured a three-aircraft deal with Nigeria.
At the same time that Pakistan is promoting the type at the Bahrain show, CATIC is doing the same at the Airshow China event in Zhuhai.
"This is our market", says Air Commodore Arsalan from the Pakistan air force delegation promoting the fighter at Sakhir air base near Manama, noting that the service has also previously displayed the type at the Dubai air show.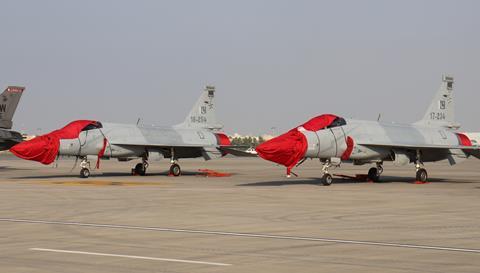 "We are expecting a lot of visits and interest in the aircraft," he tells FlightGlobal. "We have the aircraft, we have the technology, and our marketing team is promoting its 4.5th-generation performance and affordable cost."

Craig Hoyle joined Flight International in 2003, and has edited the now monthly title since 2015. He has reported on the UK, European and international military aviation sector for more than 25 years, and produces our annual World Air Forces directory.
View full Profile