Qatar's air force is to field a pair of Pilatus PC-24 light jets, the Swiss airframer revealed in its annual results publication on 22 April.
"November [2020] brought exciting news… when we signed a contract with the Qatar Emiri Air Force for two PC-24s," Pilatus says. The service will employ the aircraft "for pilot training and VIP transportation", it adds.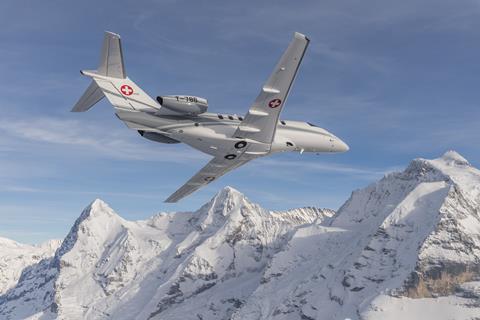 Also included as part of the contract is a five-year support package involving the manufacturer providing "on-site technical assistance" for the business jets.
Qatar's air force also is a customer for Pilatus's PC-21 turboprop trainer, with 24 examples in use.
Pilatus notes that the deal with Doha gives it "another foothold with a second air force besides the Swiss air force". The Alpine nation uses one example, which Cirium fleets data shows entered service in January 2019.
However, Cirium data indicates that the Botswana Defence Force also operates a single PC-24, with the service employing the type for VIP transport duties.