The UK Royal Air Force (RAF) is poised to end operations with its British Aerospace BAe 146 transports, and has sold its two most recently acquired examples to a commercial operator in Australia.
Used by the service's 32 (The Royal) Sqn and based at RAF Northolt in London, the four-engined type has been employed in the VIP transport and utility roles for more than 35 years.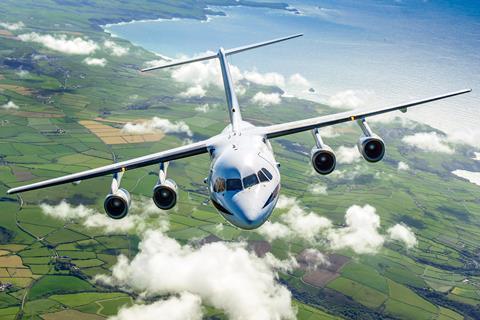 Detailing its retirement plan for the type, the RAF says its two C2-model VIP transports – used since 1986 – "will become the latest exhibits at the British Airliner Collection at Duxford, Cambridgeshire, and the South Wales Aviation Museum at St Athan".
The first of these, ZE701, made its final flight on 25 January, to the Duxford site, while ZE700 remains in operational use and will be transferred "over the coming weeks".
Meanwhile, the service says its two C3-variant aircraft, which it has employed in a passenger/freighter role since 2013, "have been bought by a civilian operator".
Registered ZE707 and ZE708, the jets were purchased from TNT Airways in the 146-200QC standard in 2012 via an urgent operational requirement deal to support intra-theatre transport needs in Afghanistan. Once adapted, the normally 94-seat-capacity model could carry a maximum 10.6t of cargo, or a mix of equipment and up to 54 personnel, and gained defensive aids system equipment.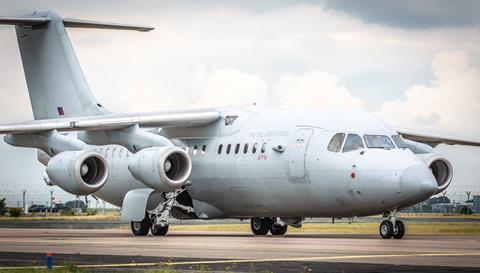 Cirium fleets data shows that the QC-model aircraft have now been acquired by Pionair Australia, and will join the Bankstown, New South Wales-based operator's existing fleet of three of the cargo type.
Responding to a request from FlightGlobal, the UK Ministry of Defence declined to identify the customer, noting: "We do not divulge details of purchaser or cost of our aircraft until the sale process has completed, which for the BAe 146 will be the end of March 2022."
First flown in 1991 and 1993, ZE707 and ZE708 had by mid-2021 respectively accumulated over 34,000 and almost 30,000 flight hours, Cirium data shows.
"The BAe 146 aircraft have served the UK proudly over many decades, including during numerous operations including Iraq and Afghanistan," says Air Vice-Marshal Suraya Marshall, commanding officer the RAF's No 2 Group. The C3 model was also swiftly adapted for medical evacuation use during the Covid-19 pandemic.
"A decision regarding a replacement aircraft is under consideration and an announcement will be made soon," the RAF says.
Story updated on 4 February, adding comment from UK Ministry of Defence.