Poland has finalised a deal with prime contractor PZL-Swidnik for the supply of 32 Leonardo Helicopters AW149 medium twins.
Signed on 1 July, the "Perkoz" programme acquisition is worth €1.76 billion ($1.8 billion), Leonardo says.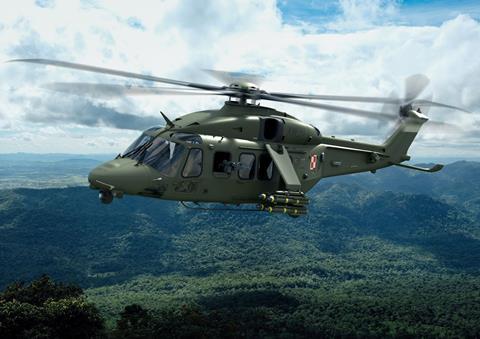 "Acting as the prime contractor, PZL-Swidnik will host a local production line for these new helicopters," it confirms, with deliveries to run from 2023-2029.
"We are proud to contribute to the constant increase of the security of the Polish nation, and to strengthen the industrial capabilities which are fundamental to the country's resilience and sovereignty," says Leonardo chief executive Alessandro Profumo.
The company notes that it has invested approximately €1 billion in Poland since 2010.
The deal also covers the provision of logistics support, spare parts and ground-handling equipment, plus the "comprehensive training of pilots and technical personnel and the delivery of a set of advanced simulators and training equipment".
"The localisation of industrial and logistical capabilities for these new helicopters to meet Poland's needs leverage the long established and unique capabilities of PZL-Swidnik and its professional skills," says Leonardo Helicopters managing director Gian Piero Cutillo.
Poland's configuration will see the rotorcraft equipped for missions including troop transport and air support, along with casualty evacuation and combat search and rescue. This will include installing an electro-optical/infrared sensor turret, guided/unguided rockets, missiles and self-defence systems, Leonardo says.
"I am convinced that the AW149 will meet the [Polish] armed forces' high-end needs," says PZL-Swidnik president Jacek Libucha.
Polish minister of national defence Mariusz Blaszczak on 13 June announced the AW149's selection. The nation's current medium helicopter capability comes from operating aged fleets of Mil Mi-2 and Mi-8/17 transports.
The deal with Warsaw represents the largest military order so far for the AW149, which has previously been purchased by Egypt (24) and Thailand (5). The type is also being promoted to the UK Ministry of Defence for its New Medium Helicopter requirement, which seeks up to 44 aircraft as replacements for the Royal Air Force's aged Puma HC2s and a trio of British Army-operated support types.
Craig Hoyle joined Flight International in 2003, and has edited the now monthly title since 2015. He has reported on the UK, European and international military aviation sector for more than 25 years, and produces our annual World Air Forces directory.