Qatar's introduction of the Eurofighter Typhoon has drawn a step closer, with a first delivery completed at BAE Systems' Warton final assembly site in Lancashire on 15 August.
"The first Typhoon has been delivered on schedule and will ferry from the UK to Qatar later this month," BAE says. "Typhoon will provide critical support for the FIFA World Cup which will be held in the state from 20 November," it adds.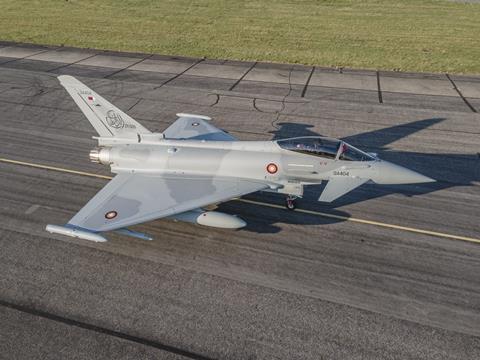 The Qatar Emiri Air Force will receive 24 Typhoons via a £5 billion ($6 billion) acquisition, also covering the purchase of nine Hawk 167 advanced jet trainers from the UK company and a six-year availability support service.
"We are working in partnership with the Qatar Emiri Air Force to ensure we transfer the skills and knowledge required to support, maintain and upgrade both their Typhoon and Hawk aircraft," says BAE director business development Tony Gilchrist.
Doha will field 20 single-seat Typhoons and four two-seat examples. Cirium fleets data shows that five of its aircraft have performed flight tests from Warton to date, including the lead delivery, registered QA404.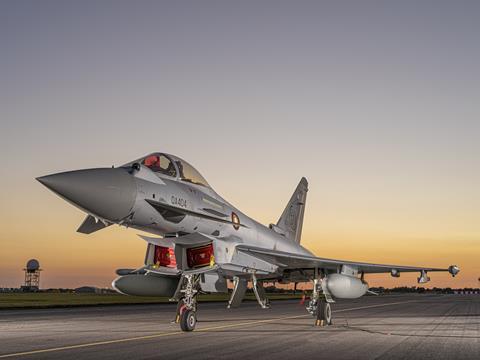 A delivery ceremony image released by BAE shows the aircraft alongside an array of weapons, including the MBDA Asraam, Brimstone, Meteor and Storm Shadow missiles and Raytheon UK's Paveway IV precision-guided bomb.
The UK and Qatar have established joint training units for both the BAE-produced types being fielded by Doha, with 12 Sqn operating RAF-assigned Typhoons from Coningsby in Lincolnshire and Qatar's Hawks being flown from Leeming in North Yorkshire.
Qatar's introduction of its multi-role Typhoons will mark the final part of a major expansion of its combat capability. This has already seen its air force field Boeing F-15QAs and Dassault Rafale DQ/EQs.
Doha's introduction of the Typhoon also will mark a further expansion of the type's adoption in the Middle East, where it is already flown by the air forces of Kuwait, Oman and Saudi Arabia.

Craig Hoyle joined Flight International in 2003, and has edited the now monthly title since 2015. He has reported on the UK, European and international military aviation sector for more than 25 years, and produces our annual World Air Forces directory.
View full Profile