The UK has returned its BAE Systems Hawk T2 jet trainers to service following a short precautionary grounding due to engine issues.
Operated by Ascent Flight Training as part of its contract with the Ministry of Defence (MoD), flights with the Royal Air Force's (RAF's) Hawk T2 fleet were temporarily paused last week while an engine incident on the ground was investigated.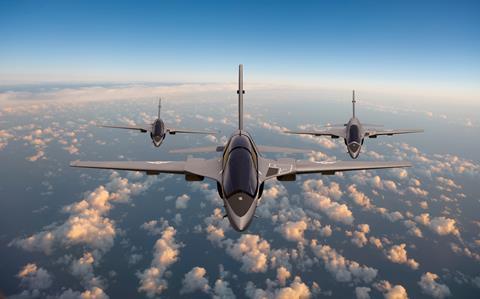 But the MoD confirms the RAF Valley-based trainers are now back in the air. The grounding came amid a broader reliability issue with the type's Rolls-Royce/Safran Adour engine which has severely limited the number of flying hours available to Ascent. The problem is likely to persist for the next three years, the Lockheed Martin-Babcock joint venture recently indicated.
Meanwhile, UK firm Aeralis – which is developing a modular next-generation trainer – has signed an agreement with the AirTanker joint venture to evaluate opportunities in the market for light fast jet services.
Aeralis says its memorandum of understanding (MoU) with AirTanker will "assess upcoming contracts in military flying training and also defence operational training and combat air support roles".
The pair will also examine different models "with the capability to transform the full spectrum of fast jet pilot training" in order to ensure pilot throughput.
AirTanker will be able to offer a range of services under the MoU, including collaboration with overseas partners and setting up local service provision.
Use of the Aeralis advanced jet trainer is envisaged by the agreement, in order to "achieve significantly lower financing, acquisition and operating costs for aircraft" against incumbent platforms or providers.
"We are excited to be collaborating with the Aeralis team on this transformative programme and bring our expertise of supporting and delivering complex military operating solutions into the project at this developmental stage," says AirTanker chief executive Phill Blundell.
Tristan Crawford, Aeralis founder and chief executive, adds: "In the coming years this will have the potential to transform the operating economics of defence light jet aviation, releasing sorely needed capacity and capability for military customers across a number of domains."
Aeralis has slowly been assembling a supplier base for its jet, which currently includes Hamble Aerostructures, Martin-Baker and Thales. It is also collaborating with Rolls-Royce to explore "initial and future" propulsion requirements.
AirTanker is a joint venture between Airbus, Thales and Equitix Investment Management which owns the RAF's fleet of 14 Airbus Defence & Space A330 Voyager multi-role tanker transports.

Dominic Perry is deputy editor of Flight International but also contributes extensively to flightglobal.com. Although specialising in the coverage of the helicopter industry, he has written on most topics in aerospace – be they commercial, defence or business aviation. In addition, there has been an increasing focus on the decarbonisation of the industry and zero-emission flight initiatives.
View full Profile