A UK Royal Air Force (RAF) tanker/transport has conducted a milestone flight performed using only sustainable aviation fuel (SAF), with the service and its industry partners claiming the achievement to be a world first.
One of the RAF's AirTanker-supplied A330 Voyagers took off from its Brize Norton base in Oxfordshire on 16 November for the 90min, 100% SAF-enabled sortie. The activity also involved airframer Airbus Defence & Space, engine producer Rolls-Royce and fuel supplier Air bp.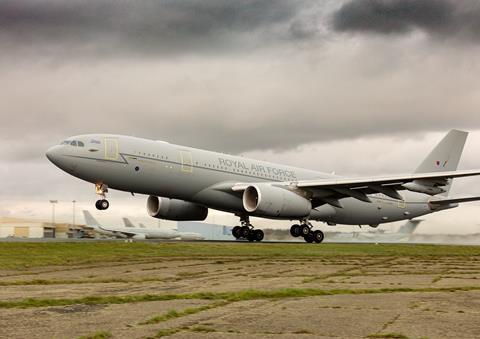 Conducted by a mixed crew of air force, Airbus and R-R flight-test personnel, the event also was "the first 100% SAF flight of any aircraft type carried out in UK airspace", claim the partners, who describe the success as "paving the way for a range of possibilities for the future of flying military aircraft".
"Climate change is a transnational challenge that threatens our resilience, our security and our collective prosperity. That is why I have set the RAF the ambitious challenge of becoming the world's first net-zero air force by 2040," says chief of the air staff Air Chief Marshal Sir Mike Wigston.
"The way we power our aircraft will be key to meeting that challenge, and the RAF is already thinking about how we will operate beyond fossil fuels," Wigston says.
The Air bp-sourced fuel used during the flight test – which was intended to replicate an air-to-air refuelling mission – was produced from used cooking oil waste.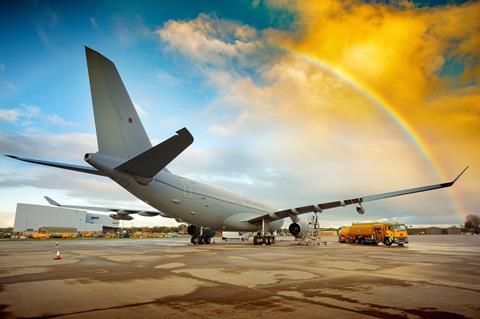 "From the crew perspective, the SAF operation was 'transparent', meaning that no differences were observed operationally," says Airbus experimental test pilot Jesus Ruiz, who captained the flight. "The test plan was exhaustive and robust and has allowed us to compare SAF with JET [A]1," he adds.
"I commend our UK customer for this achievement, which helps pave the way for a sustainable reduction of carbon emissions of our military aircraft fleets," says Airbus Defence & Space chief executive Michael Schoellhorn. He notes that preparations for the flight also involved the company's engineers making a "significant contribution by providing on-the-ground expertise and securing the necessary MoD military flight permits".
The RAF operates 10 Voyagers in the tanker and transport role, with the adapted A330-200s – which feature hose and drogue refuelling equipment – powered by R-R Trent 772B turbofans. The aircraft involved in the test flight (ZZ334), entered service in October 2011, according to Cirium fleets data.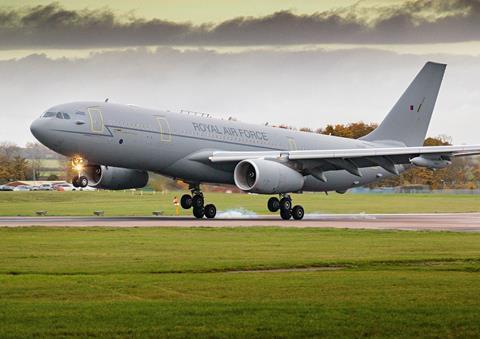 "Across Rolls-Royce we are committed to partnering with our customers to help them become more resilient to climate change," says Alex Zino, the propulsion supplier's executive vice-president business development and future programmes. "Ensuring our engines are compatible with sustainable aviation fuel is just one of the ways we are doing this," he adds.
Meanwhile, Air bp senior vice-president Martin Thomsen notes: "Our ambition is to be the decarbonisation partner to the aviation industry, and we are working at pace with industry players to promote SAF availability, accessibility and affordability to support the aviation industry to meet its lower carbon goals."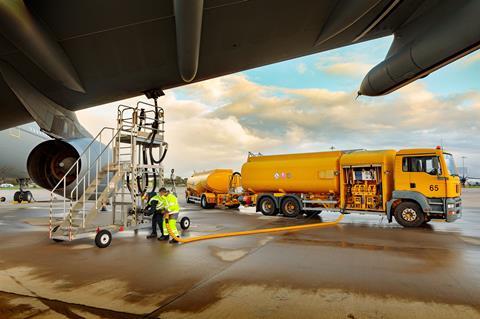 The RAF's highest-ranking officer has set the service a keen challenge to beat the UK government's net-zero target by a full decade, with other current initiatives including studying a possible acquisition of an electric-powered type to support its ab initio and elementary flight training activities.

Craig Hoyle joined Flight International in 2003, and has edited the now monthly title since 2015. He has reported on the UK, European and international military aviation sector for more than 25 years, and produces our annual World Air Forces directory.
View full Profile