The UK Royal Air Force (RAF) welcomed its first of two VIP-roled Dassault Aviation Falcon 900LX business jets at its Northolt base near London on 18 May, and formally named the type the 'Envoy IV'.
"The new Envoy aircraft will be based at RAF Northolt with No 32 (The Royal) Squadron, initially under contract with Centreline AV Ltd," the service says.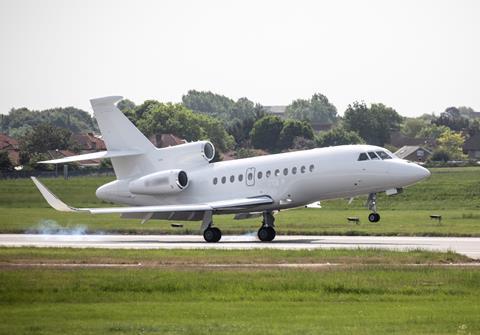 "For the first two years, the aircraft will be operated by mixed crews of RAF and Centreline staff, before upgrading to a full military and operational capability in 2024." This process will include equipping the aircraft with self-protection systems and a military communications fit.
While the RAF has obscured the aircraft's registration in released images, flight tracking site Flightradar24 identifies the lead VIP transport as G-ZAHS. It returned to Centreline's Bristol base in southwest England later on 18 May, it shows.
Cirium fleets data records G-ZAHS as having been ordered on 8 February and handed over to its owner on 19 April.
The RAF's £80 million ($99 million), two-aircraft acquisition was announced in early February, with the Envoy IV CC1 trijets replacing a pair of BAe 146-100s which were retired from use the following month. The deal also included an initial two-year package of in-service support.
"The new Envoy aircraft will transport members of the Royal Family, government and military leaders around the world more quickly and efficiently than before," the RAF says. It adds that the French-built type "can fly further, faster, and more sustainably than the aircraft it replaces".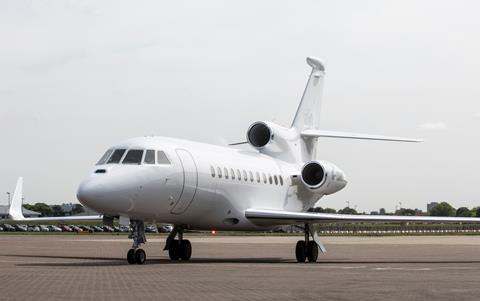 Capable of carrying a maximum of 14 passengers, the Honeywell TFE731-60-engined Falcon 900LX has an operational range of 4,000nm (7,400km) with eight passengers, the RAF says.
The RAF's name choice draws on the legacy of its Second World War-era Airspeed Envoy III light transport.