The Australian Department of Defence (DoD) has signed an almost A$110 million ($77 million) training deal with Raytheon Australia.
The training package relates to the Royal Australian Air Force's (RAAF's) Boeing F/A-18F Super Hornets and EA-18G Growlers, and will mostly be undertaken at RAAF Amberley, says the DoD.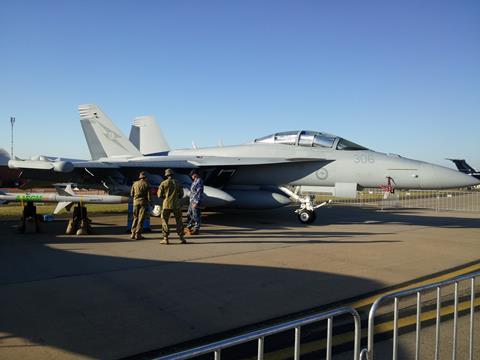 "This initial five-year $109.7 million contract will deliver ground-based simulator training support including maintenance and engineering as well as aircrew training services such as instruction, courseware development and force generation tasks," says Air Commodore Leanne Lee, director of general aerospace combat systems.
"This new Electronic Attack Air Combat Training Support contract will ensure our RAAF personnel retain their edge through high-quality F/A-18F Super Hornet and EA-18G Growler training."
The DoD adds that the contract will support 49 jobs at Raytheon Australia and subcontractor Milskil.