Defence services provider Meta Aerospace confirms that it has obtained four Boeing KC-135R tankers that previously served with the Republic of Singapore Air Force (RSAF).
It has taken delivery of the first of the aircraft, which was ferried to March Air Reserve base in California, says the company. The remaining three will arrive this month and in November.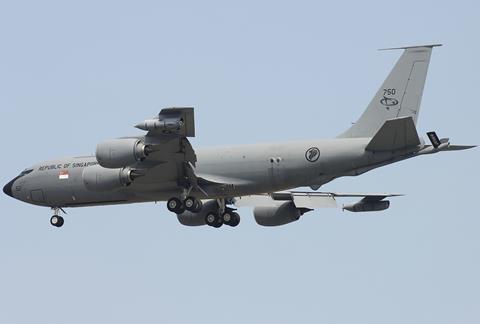 "With its extensive defence-as-a-service offerings and air mobility experience, this addition of four KC-135R aircraft enables Meta to deliver turnkey aerial refuelling services to meet our US government customer's requirements," says the company.
Meta Aerospace has its headquarters in Washington DC and employs 600 people. It describes itself as an "information-age aerospace, defense, and security platform that designs, builds and delivers cutting-edge, turnkey solutions for its partners, throughout domains and across a wide variety of missions".
Cirium fleets data show that the four jets served with the US Air Force (USAF) from the early 1960s before joining the RSAF inventory in 2000. Before joining the RSAF the aircraft's four Pratt & Whitney JT3 turbojets were replaced with CFM International CFM56s.
Singapore retired its KC-135Rs in June 2019 and replaced them with six Airbus Defence & Space A330 Multi-Role Tanker Transports (MRTTs).
In March, the USAF issued an industry day brief where it said it wanted to contract 5,000 flight hours of privately-operated in-flight refuelling tanker services, supporting around 1,100 sorties annually.
It is apparently keen to boost its tanker numbers so that it can quickly move large numbers of combat aircraft across the Pacific in case of a conflict with China. It is short of fully operational tankers owing to delays with the Boeing 767-based KC-46A Pegasus.
Several companies expressed interest, including Lockheed Martin and Airbus with a potential offering of the A330 MRTT.

Greg Waldron is the Asia Managing Editor of FlightGlobal, responsible for the team's airline, aerospace, and defence coverage across the region. He has worked at the company since 2009. In the airline space, Waldron has conducted dozens of interviews with airline leaders in the Asia-Pacific. He also covers areas such as MRO and safety. On the defence beat, Waldron has written extensively about the rise of Chinese airpower, as well as broader airpower developments around the region, such as indigenous fighter programmes, and regional acquisitions of foreign equipment. In addition, Waldron writes about commercial helicopters in the region and business aviation. Waldron worked has a freelance journalist with his work appearing in several business publications.