Russia's Beriev and personnel from electronics specialist Vega have conducted a first flight of the Ilyushin Il-76MD-90A-based A-100 airborne early warning and control (AEW&C) system aircraft with its radar and mission equipment activated.
"All systems and equipment worked correctly," says Beriev test pilot Sergey Parkhaev. "The crew checked the stability and controllability of the aircraft in required flight regimes, as well as the operation of the equipment installed."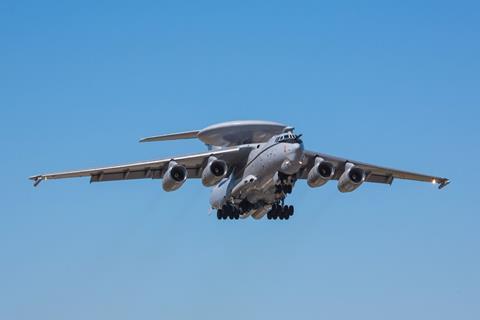 "The flight tested the aerodynamic performance of the aircraft, [and] its avionics," says parent company Rostec. "The tests confirmed that the special equipment as well as the aircraft's onboard systems function normally in a high-intensity radiated environment," it adds.
"The Il-76MD-90A platform confirmed the specified performance indicators," Parkhaev says.
Russia's air force currently operates AEW&C-roled Il-76s in the A-50 and upgraded A-50U standards. As well as being based on the re-engined, Aviadvigatel PS-90-powered MD model of the transport aircraft, the A-100 boasts an active electronically scanned array radar in its above-fuselage-mounted radome.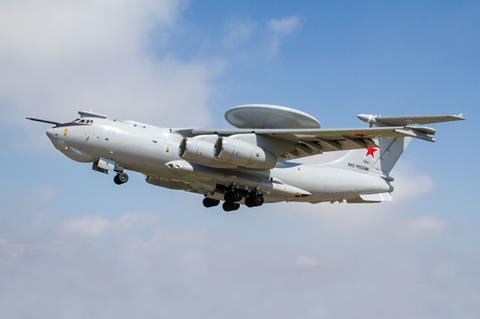 The A-100 has been the subject of a years-long development effort by Moscow, with a first flight test of the type having been performed in support of the programme in 2017.
Cirium fleets data indicates that the Russian air force has a current 14 A-50/Us in active service, aged between 30 and 38 years. It shows that two A-100 aircraft are involved in testing.