Russia's first new-build example of the Tupolev Tu-160M strategic bomber made its debut flight on 12 January.
United Aircraft (UAC) says the 30min sortie – performed from the Kazan Aviation Plant – involved test pilots taking the aircraft to a maximum altitude of 600m (1,970ft).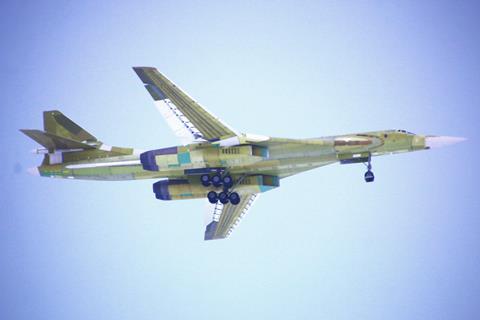 "The crew performed manoeuvers to check the stability and controllability of the aircraft in the air," it adds.
"The reproduction of the Tu-160 is a major project, which means not only updating the material and technical base and restoring key competencies, but also reaching a new level of possibilities for the design and serial production of the most complex and advanced aircraft," says Tupolev managing director Vadim Korolev.
UAC notes that this activity has involved digitalising the design process, modernising production facilities in Kazan, and replacing 80% of the bomber's systems with new or updated equipment.
"We see significant prospects for the Tu-160 platform: further development will make it possible to use it for new types of weapons, including promising ones," says Russian trade and industry minister Denis Manturov. While he did not provide specifics, the variable-geometry bomber is a clear candidate to carry hypersonic missiles being developed by Moscow.
The Russian air force's existing Tu-160s are being upgraded to the M-model configuration, with Cirium fleets data showing that six of its 16 operational examples have completed the process. Ten new-build aircraft are on firm order, with Moscow having signalled its intention to potentially acquire up to another 40.