Saab is pitching a version of its GlobalEye surveillance aircraft as a potential successor for NATO's aged fleet of Boeing E-3A Airborne Warning and Control System (AWACS) aircraft.
The Swedish company on 21 February announced that it has responded to a request for information from the NATO Support and Procurement Agency "regarding a new generation of surveillance and control capabilities".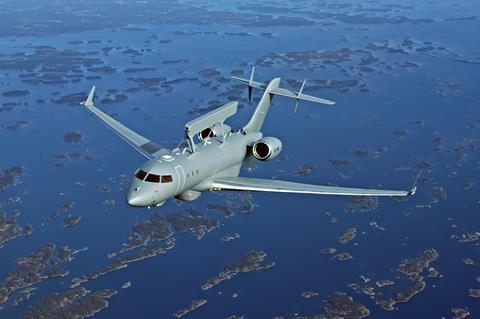 "Saab's response is based on GlobalEye," it says.
NATO is in the early stages of an Alliance Future Surveillance and Control (AFSC) project which will deliver replacements for its current 14 Boeing 707-derived AWACS assets.
A heavily adapted Bombardier Global 6000 business jet, the GlobalEye is capable of conducting simultaneous surveillance of airborne, land and maritime targets, with a Saab Erieye ER active electronically scanned radar as its primary sensor.
Saab has since April 2020 delivered three of the aircraft to the United Arab Emirates (UAE), and its launch customer's additional two on-order examples are now in modification.
"It is progressing really well, and deliveries are aimed for next year," Saab chief executive Micael Johansson said on 10 February. "They are soon going into a flight-test campaign," he adds of the UAE aircraft, which are being converted at the company's Linkoping site.
Sweden also last year confirmed a roughly SKr7.3 billion ($705 million) order for two GlobalEyes, which will replace its pair of Saab 340-based airborne early warning platforms from 2027. Stockholm also has options on another two of the aircraft.
"Our solutions, including GlobalEye, are from the outset developed to be compliant with NATO's requirements," says Carl-Johan Bergholm, head of Saab´s Surveillance business area. "I am confident that we can contribute with important capabilities that will strengthen NATO and benefit the member countries," he adds.
Sweden, along with neighbouring Finland, is currently working towards joining NATO, with the pair's addition to boost the alliance to 32 nations. Their accession has already been ratified by 28 current members, with Hungary and Turkey yet to do so.
NATO's AWACS fleet has been in operational use since 1982, and is expected to remain active until 2035. Stationed at Geilenkirchen air base in Germany, the E-3A Component currently has a detachment at Otopeni air base near Bucharest, Romania, for use in monitoring Russian activity in the region.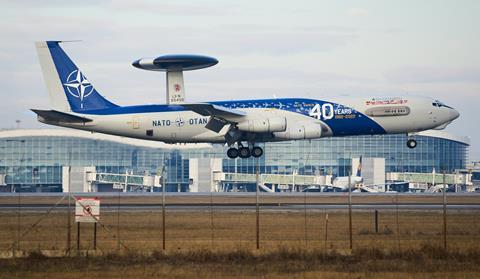 An industry team led by Boeing was in March 2022 awarded a contract to perform a risk reduction and feasibility study into NATO's future airborne surveillance needs. The US airframer's 737NG-based E-7A – currently operational with the air forces of Australia, South Korea and Turkey, on order for the UK and also selected by the US Air Force – is another likely contender for the alliance's AFSC need.

Craig Hoyle joined Flight International in 2003, and has edited the now monthly title since 2015. He has reported on the UK, European and international military aviation sector for more than 25 years, and produces our annual World Air Forces directory.
View full Profile