Saab is on track to this year transition manufacturing work in support of the US Air Force's (USAF's) Boeing T-7A advanced jet trainer programme from Sweden to the USA, the company's chief executive says.
"We have finalised our production plan in the US when it comes to the T-7," Micael Johansson said during a full-year results briefing on 11 February. "During the year we will transfer our capabilities on the training aircraft from Linkoping to West Lafayette in Indiana, and then we will start manufacturing portions of the aft fuselage."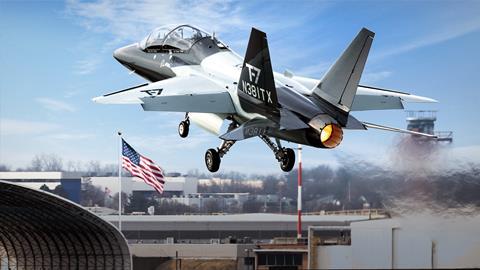 The company has established a facility in West Lafayette to produce rear fuselage sections for the T-7A, which will undergo final assembly at Boeing's St Louis site in Missouri.
Saab in January 2020 launched production activities linked to the trainer in Linkoping, in support of the USAF programme's engineering and manufacturing development phase. This initial work was related to seven test aircraft.
The USAF plans to acquire at least 351 Red Hawk trainers, with the type to replace its aged Northrop T-38s.
During the same presentation, Johansson said that Saab expects to deliver four Gripen E fighters to the Brazilian air force during 2021, along with "a few" to the Swedish air force.
The company also remains in discussion with a number of undisclosed countries about potential sales of its Bombardier Global 6000-based GlobalEye surveillance aircraft, Johansson says.
Saab has so far delivered two of five on-order examples to the United Arab Emirates, and he says a third example is due to be transferred "imminently".
The company is currently offering an undisclosed number of GlobalEyes to Finland as part of an HX programme proposal also including Gripen E/Fs, and is eyeing an emerging Swedish requirement to replace a pair of Saab 340-based airborne early warning and control system aircraft.