Satellite images have highlighted the chaotic situation at Kabul's Hamid Karzai International airport on 16 August.
Images provided by Maxar Technologies show crowds outside the airport gates, as well a massive traffic jam apparently caused by panicked Afghans flocking attempting to get a flight out.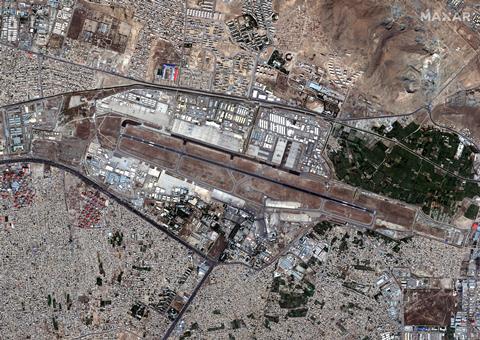 One images shows civilians on the runway, confronting what appear to be khaki-colored MRAP (Mine-Resistant Ambush Protected) vehicles, apparently operated by US forces dispatched to facilitate the evacuation of US citizens.
Several aircraft are visible on the south side of the airport where the commercial terminal is located. Aircraft on the ground comprise three Airbus A340s, including a Kam Air example located at an aerobridge, onto which desperate Afghans clambered. There is also an A310, several Boeing 737s, as well as smaller aircraft and helicopters.
In addition, a Turkish Airlines Boeing 777-300ER is visible prior to take-off, taxiing to runway 11/29, which intersects the airfield, dividing it into the northern military section, and the southern commercial section.
In the northern section of the airport, a single Boeing C-17 strategic transport and a three Lockheed Martin C-130 tactical transports are visible, as well as a large number of helicopters and smaller fixed-wing types.
Footage on social media highlighted an extremely dangerous runway situation, with a US Air Force C-17 taking off through a crowd of civilians, with some clinging to its sponsons.
One photo suggests US forces have pushed civilians away from the runway. It shows several MRAPs close to the terminal, with a large crowd of people packed against the building's side.
The USA is deploying 6,000 military personnel to facilitate the evacuation of American citizens and other personnel.
US Army Major General Henry Taylor says that US forces have secured the airport, and that evacuations are underway.
"[We're] in charge of air traffic control, and that includes commercial [and] contracted military [aircraft]," he says. "We expect to maximise our throughput of all means of transportation over the next coming days."
Updated with remarks from General Taylor