Riyadh is to significantly boost its spending on military research and development (R&D) activities, with the measure to support its Vision 2030 initiative aimed at increasing domestic industrial and support capability.
Ahmad Al-Ohali, governor of Saudi Arabia's General Authority for Military Industries (GAMI), says R&D spending currently accounts for only around 1% of the nation's annual defence procurement budget. This is considerably below the global average of more than 4%, and over 8% in the case of both China and the USA.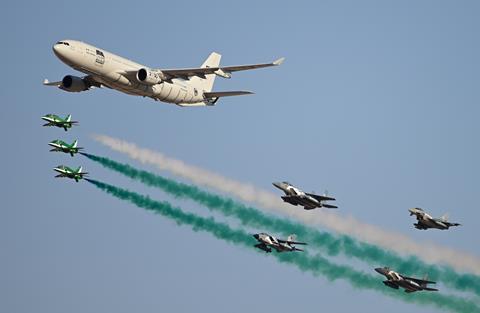 "Our aspiration for R&D is to increase our investment four-fold by the year 2030," Al-Ohali said during the International Institute for Strategic Studies' Riyadh Defense Forum event in the Saudi capital on 5 March.
"Our strategy has identified several areas for new technologies", he adds, while describing R&D as "one of the key pillars for Saudi Arabia to develop its defence industry".
The kingdom's Vision 2030 drive seeks to localise 50% of its defence spending by the end of this decade. "His Royal Highness Prince Mohammed bin Salman made it very clear that there is no armament deal without local content," he notes.
"There has never been a better time to invest in the defence sector in Saudi Arabia than now," Al-Ohali says. "As part of our supply chain initiatives we have already identified more than 70 investment opportunities, worth tens of billions of dollars."
Following a significant policy shift, he notes: "Foreign companies can now own 100% of their investments in the Saudi Arabian defence sector, with similar incentives offered to local investors. Over the next decade, we are expecting an aggregate investment [worth] north of $10 billion. This is an unprecedented period for strategic partnerships and investments, and a chance to be part of history in the making.
"We have established a very solid intellectual property programme that will ensure that the transfer of technology is well protected in the kingdom," he adds.
Al-Ohali was speaking on the eve of Saudi Arabia hosting its inaugural World Defense Show, running from 6-9 March. Established by GAMI, and to be staged every two years, the tri-service event's organisers say it has attracted 600-plus exhibitors from more than 40 countries.
"The past few years have shown that all around the world co-operation is vital, and needed more than ever in the face of adversity," he says. "Countries around the world are developing industrial policies to create strong and resilient supply chains, and the Middle East is no different."
Al-Ohali notes that Saudi Arabia's annual GDP of over $850 billion ranks it among the top 20 nations globally, and that having almost 50% of its population aged below 30 "means dynamism, potential and innovation". Such factors make the nation "an investment powerhouse representing stability and prosperity", he believes.
"We are empowering our nation by offering equal opportunities to everyone. Workforce participation among women in Saudi Arabia has been steadily increasing over the past few years, and had reached 32% by the end of 2021," he notes.